Hledání ovladačů na ID nebo názvu zařízení
Znam zarizeni:165022367
Poslední známý ovladač: 23.12.2020
The Gaming Asus Huracan PC Obtained an Original Chassis and Two Power Supply Units
The Asus vendor has presented its extraordinary desktop gaming PC – Huracan (G21). This is a modest-sized device with the 130 х 372 х 366 mm dimensions and the 8.3 kg weight.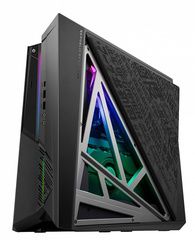 The point of interest with Huracan computer is its chassis construction. One of the panels possesses a retractable lid, ensuring easier air access to inner components and enhancing the overall extraordinary design of the device.
The PC may be based on Intel Core i7-8700 and Core i5-8400 processors. The choice of graphics accelerators is a bit wider: one may select among GeForce GTX 1060, GTX 1070 and GTX 1080. The ultimate RAM volume reaches 32 GB, and customers may also install one 3.5" HDD, one 2.5" drive and one M.2 SSD (Intel Optane models are supported) for data storing.
The audio subsystem presupposes the presence of an embedded ESS Sabre DA converter, compliant with the 32 bit/384 kHz format. And surely, we must not forget about the brand Aura illumination.
Connectivity options offer USB-C 3.1, USB 3.1 (x8), Gigabit Ethernet, S/PDIF ports, as well as DVI, 2 HDMI and 2 DisplayPort video outputs. Asus Huracan (G21) is powered by two power supply units at a time, as far as a video card needs a separate device of a kind.