Αναζήτηση προγράμματος οδήγησης από το ID ή το όνομα της συσκευής σας
Γνωστά συσκευές:165022367
Η τελευταία γνωστή πρόγραμμα οδήγησης: 23.12.2020
EK Water Blocks Introduces the First Water Block for AMD X470 Based Mainboards
The EK Water Blocks company, specializing in liquid cooling systems and relating components production, presents its EK-FB ASUS Strix X470 RGB Monoblock unit.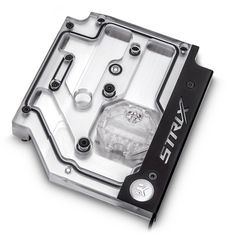 In the words of the Slovenian vendor, this water block is the first device, intended for system cards, built on the AMD X470 chipset. Specifically, the novelty is aimed at the Asus ROG Strix X470-F Gaming model and is designed to transfer heat away from the processing unit, mounted into the AM4 socket, and adjacent voltage controllers of the power supply subsystem. One should note that, owing to low hydraulic resistance, EK-FB ASUS Strix X470 RGB Monoblock may be utilized even with low voltage pumps.
This EKWB product has a copper nickel-plated base and a transparent acrylic cover. It also features full-colour backlighting, supporting the Asus Aura Sync technology.
EK-FB ASUS Strix X470 RGB Monoblock costs 140 EUR.