Search for drivers by ID or device name
Known devices: 148969924
Latest known driver: 11.12.2018
Buffalo Showcases Four-Section NAS TeraStation 4400
Buffalo Technology, an American-based manufacturer of high-end network solutions, continues introducing its newest elaborations to the customers all over the world. This time the company showcases a new four-section NAS, codenamed TeraStation 4400. According to the developers, the product is targeting those users who would like to receive flexibility in shaping their systems and scale up the storage volume individually.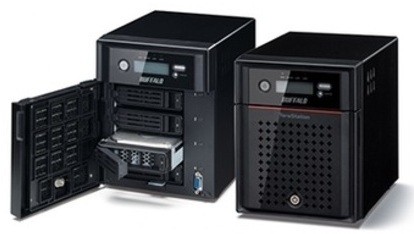 The heart of the storage is dual-core Intel Atom D2550 processor. In regards to memory, it is represented by DDR3 modules with an overall capacity of 2 GB. TeraStation 4400 accommodates a pair of gigabit Ethernet ports, two USB 2 and two USB 3.0 ports, onboard DLNA media-server, onboard Bit Torrent client, and built-in Buffalo WebAccess for a remote access to data from other devices. Additionally, the item is able to operate as NAS and as iSCSI.
As vivid from the framework, the new entry allows for the installation of up to four drives with SATA III interface and overall capacities of 1 TB, 2 TB, 3 TB, and 4 TB. This NAS is thought to support MacOS and Windows (8, 7, XP, Vista, Server 2000/2008/2012) OS platforms. It receives power due to internal AC 100-240V connector and consumes not more than 86W.
NAS TeraStation 4400 is able to offer a myriad of useful facilities. For instance, if the storage is equipped with two or more drives, the customer receives an opportunity of combining them in various RAID configurations. There are five available RAID modes: 0, 1, 5, 6, and JBOD. As an additional attraction, this NAS supports hot-swap option that enables hassle-free change of drives. Also, new NAS from Buffalo is packed with a full range of backup options, such as replication, failover, NovaBackup, and scheduled data backup.