Search for drivers by ID or device name
Known devices: 165022367
Latest known driver: 23.12.2020
New characteristics of co-processors Xeon Phi
For several years, developed Intel Larrabee graphics cards have changed its destiny, and now proudly referred to coprocessors Xeon Phi. The June announcement gave a very rough idea of ​​their characteristics and applications (highly specialized servers and workstations). Now some details will be revealed.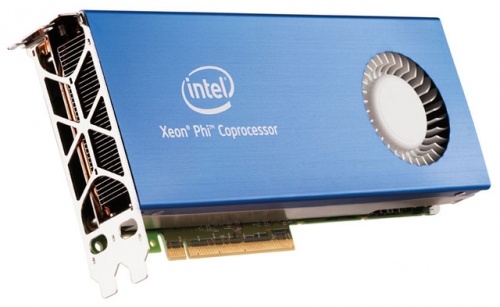 Bboosters Xeon Phi will be available in versions with 57, 60 and 61 core. There are in general 64 computational units, but some of them will be disabled. Depending on the number of cores the cache size varies from 1.8-1.9 MB first level and 28-30,5 MB second. The volume of onboard GDDR5 memory is 3, 6, and 8 GB.
Intel Xeon Phi device will operate on a low clock rate from 600-1100 MHz for the lower 57-core models with 3 and 6 GB of GDDR5, to the 630-1050 MHz or more for the older 60 — and 61-core board with 8 GB of RAM. Effective memory frequency will be in the range of 5-5.5 GHz. Support for dynamic overclocking Turbo Boost will be provided by reasonable balance of performance and TDP.
If considering heat release: co-processors in the configuration of 57C / 3 GB and 60C / 6 GB will have TDP of 245 W, models 57C / 6 GB and 61C / 8 GB will have 300-watt TDP. It is noteworthy that for most of the Xeon Phi is provided passive cooling, or complete lack thereof — is likely to test problems and use of liquid cooling systems. The use of only one radiator does not mean that the Xeon Phi will be overheated, because usually the server system equipped with a large number of fans, creating a tunnel effect.
The challenge for Intel now is to ensure that Xeon Phi performance reaches 1 teraflops in operations with numbers of double precision and 2 Tflops when dealing with single-precision numbers.