Search for drivers by ID or device name
Known devices: 165022367
Latest known driver: 23.12.2020
New Gaming PC Chassis Versa G2 from Thermaltake
Thermaltake, a renowned Taiwanese PC hardware developer, has officially divulged the specifications of its new gaming chassis, codenamed Versa G2. The belonging to the gaming echelon is vindicated primarily by an eye-catching design. The casing is developed in mid-tower form factor, and is made of a durable steel (SGCC) and plastic. Its side plate contains an acrylic window with a few ventilation grids that showcase the internal layout of the chassis.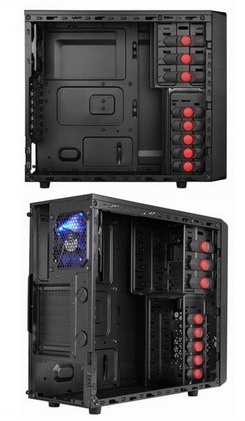 Thermaltake Versa G2 features 481x196x429 mm dimensions and is alloted for seven PCI/PCI Express expansion cards. It supports motherboard of ATX and micro-ATX standard and is notable by lower PSU localization. The internal spacing within the enclosure is sufficient for the installation of CPU cooler not more than 155 mm in height and of graphics card not more than 320 mm in length. The model is equipped with three external 5.25-inch drives and a single 3.5-inch drive, as well as with five internal 3.5-inch and a single 2.5-inch drive.
A set of external interfaces includes USB 2.0, USB 3.0 ports, and audio sockets for the connection of peripheral devices (headphones, microphone). The chassis is estimated for the installation of six fans, however, the manufacturer delivers its Versa G2 with a single pre-installed fan only. It features 120 mm dimensions and is located on the rear part of the casing. Fan rotational speed achieves the margin of 1000 RPM; the noise level approximates 16 dB on rotational activity.
Additionally, the user is allowed to install five more fans of the same dimensional type within the casing: a couple to the top panel, one to the frontal panel, and to the side/bottom panel one at a time. Moreover, like many other gaming chassis, this model stipulates the integration of a water-cooling system. The casing (its rear panel) contains special perforations for the management of cooler's cables.