Search for drivers by ID or device name
Known devices: 165022367
Latest known driver: 23.12.2020
Noctua Expands 'A' Fan Series
The line of Noctua's A fan series has been enriched with three new models: NF-A9 92 mm, NF-A8 80 mm and NF-A4x10 5 V 40 mm. The triple is based on traditional SSO-2 bearings which provide for an optimal balance of lifespan (up to 150.000 hours) and noise level. In order to enhance the performance and reduce noise during operation Noctua equipped the fans with Advanced Acoustic Optimization frame, anti-vibration pads, and such technologies as Stepped Inlet Design, Inner Surface Microstructures and Flow Acceleration Channels.
Noctua NF-A9 model is an heir of a renowned NF-B9 version. It is available in two variations: NF-A9 PWM and NF-A9 FLX. The first one allows for dynamic alteration of operational speeds from 400 RPM to 2000 RPM; the other one offers three fixed speed indices (1050/1250/1600 RPM).
Noctua NF-A8 is a successor of NF-R8 model. It is available in three variations: NF-A8 PWM, NF-A8 FLX and NF-A8 ULN. The first fan is able to rotate at 450-2200 RPM speed range due to PWM support, the second one provides for three fixed speed positions (1200/1650/2000 RPM), whereas the third one offers two fixed speed positions (1100/1400 RPM).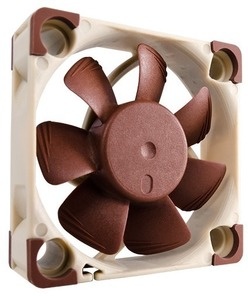 Finally, Noctua NF-A4x10 5V is a dedicated version of NF-A4x10 fan but with a reduced voltage (from 12 V to 5 V). This peculiarity enables its installation into server stations, network storages, and other devices which extensively use 5 V bus. Moreover, the fan's nominal delivery set boasts the availability of OmniJoin adapter that expands its usability area.