Search for drivers by ID or device name
Known devices: 165022367
Latest known driver: 23.12.2020
Rumours about postponement of procuring of desktop processors AMD Trinity are confirmed
Postponement of desktop processors Trinity (Socket FM2) release for October is becoming more possible. Not long ago such rumours were confirmed by authoritative Taiwan source. Retail sales of AMD A10-5800K and the other APU of new series will start only in three months, either simultaneously or nearly simultaneously with the release of high-end 8-core processors FX-83xx/Piledriver.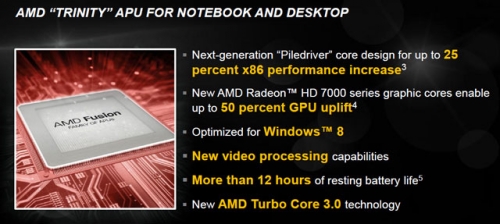 Experts say that in preparing procedure of desktop models Trinity, which must operate at frequencies up to 3.8 GHz (4.2 GHz Turbo), AMD engineers faced with a small amount of chip slots. In this regard, there will be changes in the production process and the design of crystals Vishera. In addition to this, warehouses of Advanced Micro Devices and its partners are filled with surplus APU Llano, which are needed to be implemented in the coming months in any case.
The delay of Trinity will affect the timing removal of the old processors AM3 from the sale. These processors are still up 30% of the total supply, although it was initially planned to replace them with proposals of Llano FM1 range. Trinity expansion is expected to be rapid. Already in the IV quarter (October-December) there will be more new APU, than old ones: 22% Trinity vs. 16% Llano.