Search for drivers by ID or device name
Known devices: 165022367
Latest known driver: 23.12.2020
The LIVA Q Mini PC from Elitegroup Computer Systems Can Be Used as a Set-Top Box Operated by Windows 10 or Ubuntu 16.04 LTS
The Elitegroup Computer Systems (ECS) Co. has lately introduced a tiny LIVA Q PC, dimensionally easily comparable with an ordinary computer mouse. Its framework, measuring only 70 × 70 × 31.4 mm (WxDxH), is of 0.15 l volume capacity. Total weight equals around 9 ounces (260 g). This specialty may function as a set-top box, for instance.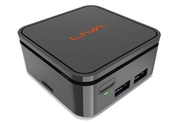 LIVA Q is built on the Apollo Lake gen Intel processor. Customers have an option to choose between Celeron N3350 and Pentium N4200 modifications. The first sample mentioned has two compute cores, featuring the 1.1 GHz frequency, which can be boosted up to 2.4 GHz, as well as the Intel HD Graphics 500 graphics controller. The second silicon offers four cores with the 1.1–2.5 GHz clock and the Intel HD Graphics 505 graphics accelerator.
The LPDDR4 RAM capacity comes to 2 GB or 4 GB; the eMMC flash storage is able to hold 32 or 64 GB. There is a slot for the microSD card, too.
This compact PC is equipped with the Gigabit Ethernet network controller, Wi-Fi 802.11ac and Bluetooth 4.1 wireless adapters, USB 3.0 and USB 2.0 ports, and the HDMI interface.
The ECS LIVA Q mini PC is operated by Windows 10 or Ubuntu 16.04 LTS. Pricing is not indicated.