Search for drivers by ID or device name
Known devices: 165022367
Latest known driver: 23.12.2020
The 27" Philips 272B8QJEB Monitor Is a Perfect Solution for the Business Sector of Customers
MMD introduces its Philips 272B8QJEB product, which is a 27-inch monitor aimed at the business sector of customers. This display is an optimal representation of smart human engineering, comfort for eyes and environment-friendly solutions.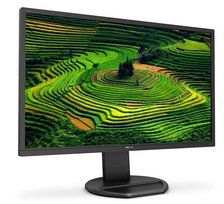 The novelty got an IPS panel with 2,560 х 1,440 resolution, wide viewing angles (178°), 250 cd/m2 brightness, 1000:1 static contrast and the 5 ms matrix speed of response. The 10-bit display is operated by the 12-bit GPU, thus it is able to render 1.07 bln of various shades and colours, owing to which Philips 272B8QJEB stands out against standard 8-bit models in terms of quality.
Another peculiarity is a rich set of outer interfaces, including VGA (D-Sub), DVI, DisplayPort, HDMI, two USB 3.0, two USB 2.0 ports and a pair of 3.5 mm audio jacks. Besides, the specialty has a couple of integrated speakers of the total 4 W capacity. The handy stand offers space for a smartphone or some office accessories. The SmartErgoBase stand allows adjusting height, tilt and swivel of the display according to user's tastes.
For convenience the developers supplied their monitor with the "EasyRead" mode, which brings reading from a screen into proximity with reading from a book. Flicker-Free and LowBlue technologies applied diminish impact on eyes, while eliminating twinkling and high-energy visible light.
Shipment of Philips 272B8QJEB is to start this month. The approximate price is $322.