Search for drivers by ID or device name
Known devices: 163074949
Latest known driver: 15.12.2019
Welcome In New LPDDR4 Memory Chips from Samsung
Samsung settles down to a large-scale production of LPDDR4 mobile memory chips. Elaborated according to 20 nm technological norms, the new-comers boast the integration of an advanced technology that ensures 8 Gb crystal density and twice the performance compared with LPDDR3 chips. Currently, the company produces models of 2 GB and 3 GB capacity, however in early 2015 it will set to the development of 4 GB solutions.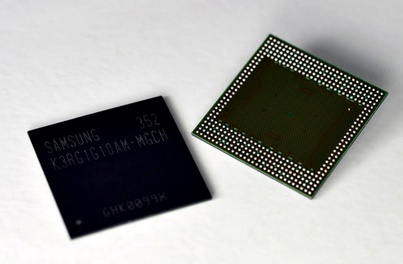 New LPDDR4 memory modules are targeting various mobile devices with thirst for lightning-fast data transfer speed. The latter index might accelerate up to 3200 Mb/sec; this will allow employing chips for the implementation of resource-intensive tasks, such as recording and playback of high-resolution video or serial filming.
Samsung developers claim that 2 GB LPDDR4 DRAM is 40% more power-efficient than counterparts with 4 Gb crystal density. This became possible due to the adopting of low-voltage swing-terminated logic for I/O signaling. As a result, the average operating voltage was reduced to 1.1 V level.