Search for drivers by ID or device name
Known devices: 165022367
Latest known driver: 23.12.2020
Power-Efficient Monitor AOC G2460PG Review
Monitors with G-Sync support are not oddity nowadays. However, only few manufacturers manage to design a product that would be a perfection in any aspect. AOC has succeeded in this matter when it introduced the G2460PG model. It is differentiated not only by anticipated visual effects but also by low power consumption. Let's review AOC G2460PG in details.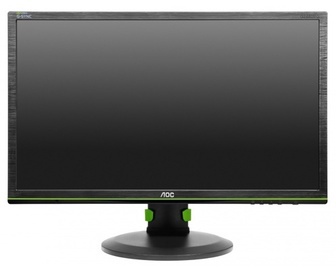 Highlights
The G2460PG features the following specifications:
— display dimensions: 24 inches, aspect – 16:9, visible part of the screen – 531.36x298.89 mm;
— panel type: TN + Film, 6-bit, support for A-FRC;
— response time: 1 ms;
— maximal resolution: 1920x1080 pixels at 144 Hz refresh time;
— maximal brightness: 350 cd/m2;
— contrast: static – 1000:1, dynamic – 80M:1;
— viewing angles: 178/170;
— amount of displayed colors: 16.7 m;
— power supply: internal 100-240 V;
— power consumption: working mode – 40 W, standby – 0.5 W, off mode – 0.5 W;
— video interfaces: DisplayPort;
— regulations: EPEAT Gold, EAC, EnergyStar 6, TCO 6, Rohs.
What's Outside?
Despite being a representative of gaming segment, this monitor boasts strict office styling. The only attraction is a light-green strap on the central column; it is called to provide for an efficient cable management. The frame is 1.5/2.5 cm thick (side & top/bottom). The screen has got matte coating, free of flickering & ripples. The stand is uncommonly thick, although rather functional. It allows the customer to change the height, pitch, angle of slope as well as switch to pivot mode.
It is inherent to all G-Sync-compatible monitors to come with a single video output – DisplayPort. Beside it, there is USB-hub for two USB 3.0 ports. The side facet houses a pair of other USB 2.0 ports, one of which can charge-in the connected device even when the display works in standby mode. The rear facet is distinguished by the incorporation of Kensington lock.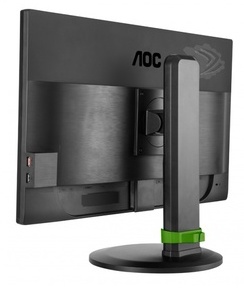 Menu Specifications
AOC G2460PG is handled by physical buttons allocated in the bottom-right corner. Each button has a dedicated inscription. The interface looks quite unusual with only 4 main sections. The first one, 'Brightness', enables the adjustment of brightness and contrast index; it's also useful in switching between three preset color modes. The 'Color Settings' section offers color mode options like Normal, Warm, Cold, sRGB, and User modes. The 'Menu Settings' allows changing the main menu localization on the screen and adjust the level of transparency. Finally, the 'Additional Settings' section enables switching on of ULMB option and clearing factory tuning.
Advanced Technologies
The model stands out by the support for two most advanced technologies: Flicker Free and ULMB. The first one ensures comfort gameplay thanks to the possibility to adjust the brightness without the appearance of flickering.
Nvidia's ULMB (Ultra Low Motion Blur) creation is in charge of making all moving objects sharper; this way, the objects even in the most dynamic scenes look sharp. There is a special Hot Key on the front facet that enables the ULMB. Currently, this option operates at 120 Hz, 100 Hz and 85 Hz refresh rates.