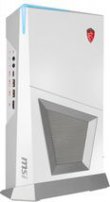 MSI presented an updated Trident 3 Arctic desktop PC at the CES 2018 exhibition, which is conducted in Las Vegas, USA. The desktop, operated by the Windows 10 Home OS, is compatible with VR-headsets.
The Trident 3 Arctic system was first announced early last year. This device of a modest form factor is performed in a snow-white framework with the following dimensions: 346.25 × 232.47 × 71.83 mm. It is equipped with the Silent Storm Cooling 2 cooling system, ensuring the effective heat dissipation without redundant noise.
The novelty obtained the enhanced electronic "stuff", particularly the 7th generation Intel Core processor gave place to the 8th gen Core chip. The GeForce GTX 1070 video card was substituted by the discrete GeForce GTX 1080 graphics accelerator.
The Gigabit LAN controller is responsible for wired connection to the computer network. Wi-Fi 802.11ас and Bluetooth 4.2 wireless adapters are …