Otsi juhtide ID või seadme nime
Tuntud seadmed:165022367
Viimane teadaolev juht: 23.12.2020
Graphics Card Palit GTX 660 Ti JetStream Review
All graphics solutions represented in the market can be divided into three main groups: high-end cards that are destined for inveterate gamers and professionals, mainstream products for ordinary needs of average customers, and budgetary items for basic PC needs. Each of the segment is constantly replenishing with new products to satisfy the rising demands of consumers. Graphics solutions from Nvidia are widely represented in all three groups and enjoy popularity due to their advanced facilities. The company's latest adapter GTX 660 Ti doesn't have its own reference model, so each graphics card manufacturer is able to adjust it exactly to the individual model. Hence, Palit released its own card on the basis of Nvidia GTX 660 Ti adapter and codenamed it JetStream.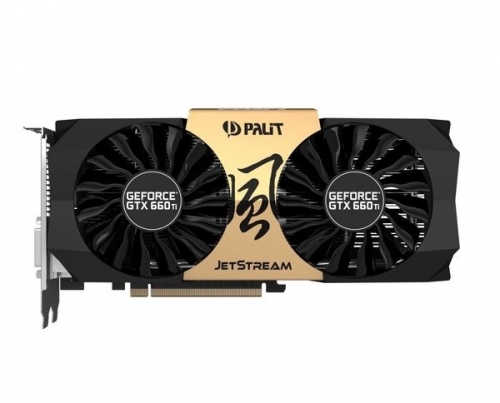 Integration
Palit GTX 660 Ti JetStream design is much alike the design implemented in Palit GTX 670 model. The new graphics card is based on a rather short circuit board that makes the cooling system unusually prominent. The cooling system consists of two fans (90 mm in dimensions each fan) and copper heat pipes that promote for appropriate GPU heat management; the larger part of the system is covered by a plastic lid. Additional power supply is enabled through a couple of six-contact sockets. GPU power subsystem is represented by four phases, while graphics memory power subsystem is equipped with two phases.
The area around GPU is designated for six VRAM micro schemes; the other two schemes are located on the rear side of the circuit board. Palit GTX 660 Ti JetStream accommodates three video outputs: HDMI, DVI and DisplayPort. The delivery set is notable for the availability of a detailed user instruction, a power adapter, and two kind of adapters: HDMI to DVI and DVI to D-SUB.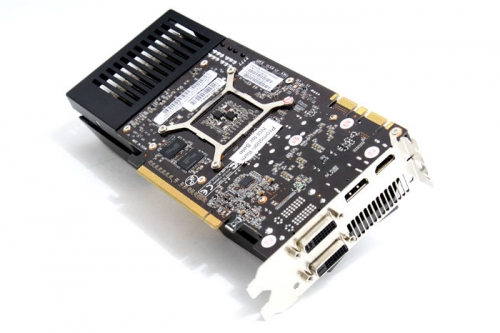 Nvidia GTX 660 Ti Peculiarities
Graphics cards developed on GTX 660 Ti adapter are furnished with GK104 GPU which embraces 1344 cores. The number of rasterization blocks has been decreased to 24 items, as compared to 32 blocks in other models of this manufacturer. The integrated memory bus boasts 192 bit facilities, while the older adapters have 256 bits.
General Specifications and Overclocking
Graphics card Palit GTX 660 Ti JetStream is developed with stability and efficiency in mind. Of course, it can't be attributed to the high-end gaming solutions, although it is able to cope with the majority of graphic assignments. Its general specifications look the following way:
— applied technological process: 28 nm;
— memory type and volume: GDDR5 2048 MB;
— memory frequency: 6008 MHz;
— core frequency: 915 MHz;
— support of DirectX 11.1.
With the purpose to enhance the card's overclocking possibilities, Palit equipped its JetStream with a dedicated Nvidia Inspector applet. Due to it the GPU frequency has been increased from 915 MHz to 1006 MHz, and memory frequency rose from nominal 6008 MHz to 6108 MHz. Overclocking process added some power to the graphics card: GPU showed decent performance results on conditions of stable voltage: 1081 MHz. Memory frequency might surprise the customers, as far as it is able to increase from 6108 MHz to 7408 MHz.
Temperature conditions are quite favorable for the main card's components. The temperature of the overclocked graphics card does not exceed the margin on 31 degrees in standby mode; this index rises to 79 degrees when the card operates under loading. At the same time, there is always possibility to increase fan rotation speed by a single move with the purpose to cool the GPU and its environment. Despite the rotation speed, the integrated cooler does not produce too much noise.