Gidariak ID edo gailuaren izena
Ezagutzen gailu: 165022367
Azken ezagutzen gidari: 23.12.2020
Cougar Vortex Fans: the Secret of Success
Nowadays a lot of hardware developers employ Vortex fans from Cougar in the design of various PC components, including CPU coolers and graphics cards. Such demand is primarily explained by an elaborate approach to the fans' framework construction. Profound testing is not the last thing to contribute to the company's success. Indeed, since the launch date in 2011, Vortex line has been enjoying great popularity throughout the world and, especially, on American and European markets.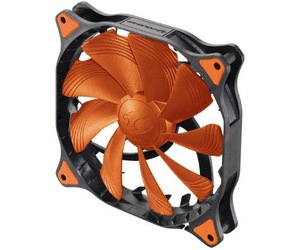 Therefore, Cougar has designed unique fan impellers that ensure a balanced correlation between such parameters as static pressure, noise level and airflow. The implementation of aerodynamic elements on the internal part of the frame in combination with the grooves on the impellers are able to promote for an improved airflow focusing; this is achieved due to the acceleration of airflow in edge area.
All Vortex fans are based on a hydrodynamic bearing that provides for the prolonged lifetime and low vibration level. Dedicated grooves on the bearing mandrel surface avert the leaking of lubricant during rotation. Such framework reduces the fraction force in a friction pair in order to minimize operation noise.
It should be noted that similar solutions and approaches are widely used in the development of disk drives, as well, as in a range of products manufactured by other companies (i.e. a new series of fans designed by Noctua). Upon the whole, such framework is able to guarantee the maximal performance and efficiency on different environments and conditions, and this can't but draw suppliers' and average customers' attention.