رانندگان با ID یا نام دستگاه
شناخته شده دستگاه: 165022367
آخرین شناخته شده راننده: 23.12.2020
Biostar Intros a New Affordable Motherboard Hi-Fi A75S3
Biostar starts the sale campaign of its new motherboard model codenamed Hi-Fi A75S3, which belongs to PURO Hi-Fi flagship line. It is developed in micro-ATX form-factor and is based on AMD A75 system logics. The board supports all contemporary AMD CPUs that are compatible with FM2 socket, including the series A10, A8, A6, E2, A4, and Athlon II X4 (all with TDP level not more than 100W). The new model is targeted to operate under Windows OS (versions XP, 7, Vista and 8).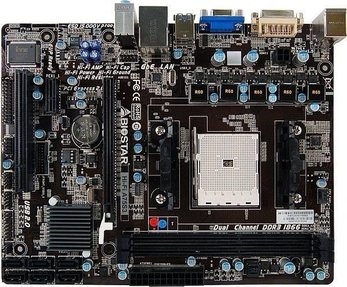 Motherboard Hi-Fi A75S3 houses two DIMM slots for a two-channel DDR3 memory that is estimated to work at 800MHz, 1066MHz, 1333MHz, 1600MHz, and 1866 MHz frequency. The overall volume of the integrated memory might achieve 32GB. The model employs GPU of Direct X11 class that secures efficient performance in the majority of updated 3D games and applications. Still, the manufacturer reserves the right to enhance the performance of graphics subsystem thanks to the implementation of a single PCI Express 2.0 x16 slot and the support of AMD Dual Graphics Technology. Video interface is represented by an analog VGA port and a digital HDMI port with HDCP support.
To continue, this board supports SATA III interface that is displayed in the integration of six SATA III 6Gb/sec ports; such combination enables the creation of RAID arrays of different levels (10, 5, 1, 0). There are also three USB 3.0 and two USB 2.0 ports. Network controller Realtek RTL8111F ensures the activation of high-speed 10/100GbE LAN with the support of Smart Speed LAN option. Sound subsystem is based on Realtek ALC662 controller (HD Audio options). Supplementary peripheral devices are connected with the help of PCI and PCI-e 2.0 x1 slots.
Hi-Fi A75S3 is delivered with an updated BIOS UEFI that is notable by user-friendly interface and quick settings. It supports BIO-Remote2 facility for the remote control over multimedia PC options, as well as BIO-Flasher and BIO-ReLife options.
Moreover, this motherboard is known to get a few unique technologies that improve its performance and reliability parameters. The list of technologies embrace PURO Hi-Fi, Hi-Fi Power, Hi-Fi Ground, ESD, and some others.