Search for drivers by ID or device name
Known devices: 165022367
Latest known driver: 23.12.2020
Inno3D Demonstrates Two GeForce GTX 650 Ti Boost Graphics Cards
As opposed to the army of companies that launched practically identical to the prototype GeForce GTX 650 Ti Boost graphics cards, Inno3D has elaborated two own versions which dramatically differ from Nvidia's sample. The major difference lies in an efficient cooling system and production overclocking. The first model, marked as Inno3D GeForce GTX 650 Ti Boost iChill, is equipped with a highly efficient cooler 'iChill' and features 7% production overclocking. The other model, marked as Inno3D GeForce GTX 650 Ti Boost, comes without overclocked frequencies, although its hardware components promote for the conducting of various clock frequency tests.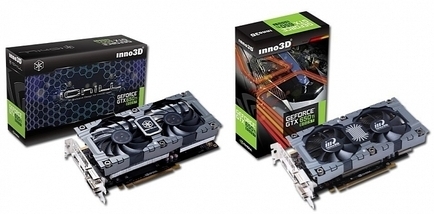 Both novels take GK106 as the basis. The GPU is developed under 28 nm technological process and features 768 CUDA cores, 64 texturing blocks, and 16 rasterization blocks. In regard to frequencies, Inno3D GeForce GTX 650 Ti Boost iChill is clocked at 1050 MHz in nominal mode, but can be overclocked up to 1102 MHz in GPU Boost mode. Inno3D GeForce GTX 650 Ti Boost has got a bit lower frequencies: 980 MHz (nominal) and 1033 MHz (boost).
Both graphics cards employ PCI Express 3.0 x16 internal interface and allocate 2 GB of GDDR5 memory type with 192-bit interface. Its nominal frequency equals to 1550/1502 MHz, while effective frequency achieves the index of 6200/6008 MHz. The rear facet is notable by the availability of diverse video interfaces, including DL DVI-I, DL DVI-D, DisplayPort, and HDMI.
In the end, GeForce GTX 650 Ti Boost versions from Inno3D support a number of advanced instructions and technologies: Shader Model 5.0, DirectX 11.1, DirectCompute 11, OpenCL 1.2, OpenGL 4.1, and a list of options elaborated by Nvidia (SLI, GPU Boost, PureVideo HD, PhysX, 3D Vision, Adaptive Vertical Sync).