Search for drivers by ID or device name
Known devices: 165022367
Latest known driver: 23.12.2020
The CR-301 RGB Cooler by Jonsbo Is Compatible with AMD and Intel Chipsets
The Jonsbo vendor has recently released the CR-301 RGB CPU Cooler, compatible with AMD and Intel chipsets. The solution can be used with AMD FM1, FM2, AM2, AM2+, AM3, AM3+ chips alongside with Intel LGA 775, 1155/1156/1150/1151 processors. The ultimate value of heat energy dissipated is not to overcome 135 W.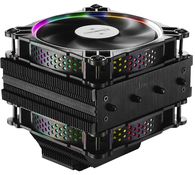 The construction of this product features a two-section heatsink, the fins of which are located at right angle to the base, and six heat pipes (6 mm in diameter).
Jonsbo supplied its specialty with two 120 mm PWM-controlled fans with the 600–1,600 rpm rotary velocity. In the meanwhile, the noise level does not overcome 25 dBA. The cooler obtained multi-coloured backlighting, offering various operation modes.
CR-301 RGB has the 128 × 138 × 135 mm dimensions and weighs 890 g.