Search for drivers by ID or device name
Known devices: 165022367
Latest known driver: 23.12.2020
Motherboard Asus P8Z77M-Pro Review
Functional possibilities of motherboards are not 100% dependent on their dimensions, as it was considered in earlier times. Quite the contrary, nowadays it's feasible to complement a high-performance system of compact dimensions. In this light, the majority of motherboard designers replenish their lineup of products with models of mATX format to propose efficiency and ergonomics simultaneously. Asus can boast a number of motherboard of various form-factors, and mATX is not an exclusion. Its latest model P8Z77M-Pro is capable to support all up-dated technologies, including multi-graphics (3-Way CrossFire, SLI, and Lucid Virtu MVP).
General Peculiarities
Asus P8Z77M-Pro is developed in mATX form factor. The predominant color gamut includes brown, blue and black tints. Capacitor fins have got composite gamut of silver-blue tints. The power is enabled via the main 24-contact ATX socket, and an additional 8-contact one. Such combination is basically applied in full-size motherboards. CPU socket is surrounded by a couple of radiators. This motherboard is peculiar for the availability of three PCI-e x16 slots, various switches and buttons.
The developer claims that the motherboard is able to support different DDR3 operational modes with the nominal voltage of 1.5V. Power supply is designed in accordance with 6+2+1 scheme. The model employs Asus Digi+ VRM EPU ASP1105 width modulation controller. The rear side of the board accommodates driver micro-schemes (02=DL); they are covered by two radiators. Those radiators are made of aluminum painted in blue color and are fixed by means of plastic clips with springs. Thermal interface is represented by thermal rubber.
Integration
This motherboard model is compatible with LGA 1155 platform and employs Intel Z77 processor. The implementation of this CPU promotes for better overclocking facilities and support for the integrated graphics core. Asus equips the rear panel with three video outputs: HDMI, DVI and D-Sub. As it was mentioned above, this motherboard is able to support various technologies. Thus, the user can install a couple of Nvidia GTX 690 adapters and receive Quad SLI configuration.
Support of multi-purpose drives is realized via the integrated controller for six SATA ports; four of them support SATA II standard, while the left two – SATA 6 Gb/sec. In addition, one can find two eSATA ports on the rear panel of the board. They are represented by a dedicated Asmedia ASM1061 controller. This model also supports RAID models of diverse levels, as well as, Intel SRT technology.
The bottom-right angle accommodates a socket for the activation of various buttons and indicators. Here, one can also find BIOS ROM which can be removed from the socket and upgrade the firmware. The bottom part of the board includes ClrCMOS jumper for settings cleanup and three USB 2.0 plugs for the connection of six devices. There is also USB 3.0 plug which is located right to the main ATX power connector. The bottom-left part of the board accommodates a couple of TPU and EPU switches, audio codec Realtek ALC892 chip, front audio panel socket S/PDIF Out, and gigabit network adapter Realtek RTL8111F chip. The top-right angle allocates COM plug, MemOK button, Nuvoton NCT6779 controller chip, and socket for the connection of TPM module.
There are also four 4-contact connectors on the motherboard for the connection of fans. Fan rotation speed is controlled via BIOS and integrated software that have several profiles for various operational modes.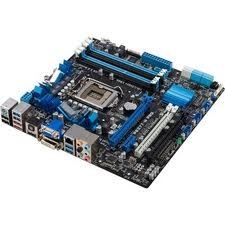 Other Specifications:
— system logics: Intel Z77 Express;
— system bus: DMI 2.0 (20 Gb/sec);
— RAM: DDR3 DIMM, two-channel mode up to 32 GB;
— motherboard power supply: ATX 24 pin, 8pin ATX 12V;
— brand technologies: Turbo V, USB Charger+, USB 3.0 Boost, USB BIOS Flashback, Disk Unlocker, Asus Q-DIMM, Asus Q-slot, Anti-Surge, etc.
Overclocking
Motherboard Asus P8Z77M-Pro is able to demonstrate good overclocking index. Overclocking process is realized due to the increase of efficiency and of system bus frequency. Thus, the board works at 4223 MHz with 10-10-10-27-1T timings. In manual mode the system bus frequency achieves 105.7 MHz; the increase of voltage results in the increase of CPU working frequency (4800 MHz).