Tiománaithe ag AITHEANTAIS nó ainm an gléas
Feistí Aitheanta:163074949
An ceann deireanach ar a dtugtar tiománaí: 15.12.2019
Gaming Nano X1 – a Gaming Nettop by Shuttle – Is Compatible with a VR-Headset
Ardent gamers may start waiting for compact nettops from Shuttle, providing perfect gaming experience. We are speaking about the Gaming Nano X1 line of PCs, performed in the small form factor and possessing such dimensions: 142 × 142 × 86 mm.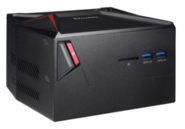 Customers will be offered two different versions – one with the four-core Intel Core i5-7300HQ (2.5–3.5 GHz) processor and another with the Core i7-7700HQ (2.8–3.8 GHz) CPU. The DDR4 RAM capacity is 8 or 16 GB respectively.
The graphics subsystem includes the NVIDIA GeForce GTX 1060 discrete accelerator, equipped with 3 (6) GB of memory. Storage can be ensured by the 1 TB 2.5-inch hard drive and the М.2 solid-state module (up to 256 GB). The novelty is operated by Windows 10 Home.
The DisplayPort, as well as three HDMI interfaces allow to hook up monitors. This powerful device is compatible with a VR-headset. Among other connectivity options one can find Wi-Fi 802.11ас and Bluetooth wireless adapters, the Ethernet controller, SD cards reader, USB 3.0, USB Type-C, USB 2.0 ports etc.
Shuttle Gaming Nano X1 will cost about 1,465 USD or even more.