מנהלי ההתקנים על-ידי תעודת זהות או שם של המכשיר
ידוע מכשיר: 165022367
האחרון הידוע הנהג: 23.12.2020
Palit to Release GTX 780 JetStream 6 GB Graphics Card in a Few Days
Palit has officially claimed that a long-awaited kick-off of GeForce GTX 780 JetStream graphics card with 6 GB memory will take place in mid-April. The model is differentiated not only the doubled video memory capacity, but also by the incorporation of an offbeat three-slot cooling system and factory overclocking. The privileges offered by the card will be available for the customers with about €600 in their pockets.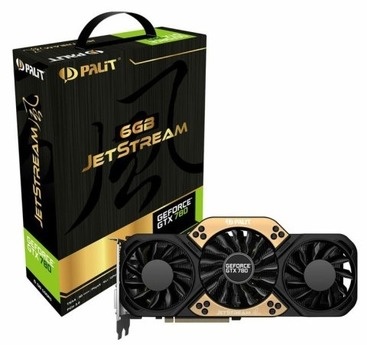 Palit GeForce GTX 780 JetStream 6 GB is based on GK110-300-A1 GPU with 2304 CUDA cores, 48 ROPs, and 192 TMUs. The core operates at the basic 902 MHz frequency, still it might be overclocked to 954 MHz level. The implemented GDDR5 modules employ 384-bit bus and run at an effective 6 GHz frequency (1.5 GHz nominal index).
Power supply is delivered through one 8-pin socket and one 6-pin socket. The estimated TDP level makes up 250 W. Video connectivity is realized by means of four dedicated ports: HDMI 1.4a, DisplayPort 1.2, DL DVI-I, DL DVI-D. In addition, the model supports 3-way and 4-way SLI configurations; this becomes possible due to a pair of MIO sockets.
To continue, this graphics card features a voluminous heatsink with a copper base. It is pierced through by five heatpipes. The couple is accompanied by three fans of 80x90x80 mm dimensions. The blades are designed according to TurboFan Blade technology that promotes for the creation of a powerful airflow. As a result, operational temperature decreases by 11 degrees as compared with the etalon version, and noise level – by 6 dB.
The list of supported by the GTX 780 JetStream 6 GB standards include OpenGL 4.3 and DirectX 11.1. The list of supported Nvidia's proprietary technologies is far more variegated: GPU Boost 2.0, Adaptive Vertical Sync, Surround, PhysX, 3D Vision, TXAA, and FXAA.