ड्राइवरों द्वारा आईडी या नाम का डिवाइस
ज्ञात डिवाइस: 165022367
अंतिम ज्ञात ड्राइवर: 23.12.2020
CES 2018: the External Lenovo Thunderbolt 3 Graphics Dock Station for a Video Card
At CES 2018 Lenovo demonstrated its Thunderbolt 3 Graphics Dock solution, which is an external docking station for a graphics accelerator.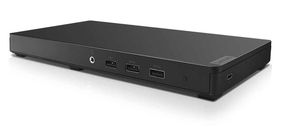 The specialty is performed in a relatively thin case, possessing such dimensions: 248 × 130 × 22.6 mm. The computer can be connected via the Thunderbolt 3 (on the base of the USB Type-C port) interface, providing the 40 Gbps throughput capacity. Thunderbolt 3 Graphics Dock is powered by the 170 W network adapter, while up to 65 W of energy may go to the laptop connected. Hardware peripherals can be attached through one USB 2.0 and two USB 3.0 ports. Besides, there are such interfaces as DisplayPort 1.3 (×2), HDMI 2.0 and Gigabit Ethernet.
The station houses the NVIDIA GeForce GTX 1050 MXM accelerator, offering 4 GB of the GDDR5 memory. This solution ensures the mainstream-class effectiveness, so one should not expect to get top-level graphics experience. However, the main purpose of Lenovo Thunderbolt 3 Graphics Dock is the ultrabook's video subsystem speedup.
Lenovo Thunderbolt 3 Graphics Dock will come in retail in the closest time. The specialty will cost around 400 USD.