Pronalaženje upravljačkih programa na ID ili naziv uređaja
Poznati uredaja:165022367
Posljednji poznati vozač: 23.12.2020
The Switchover to Nvidia GeForce GTX 760
Nvidia has officially introduced one more graphics adapter from 700 series: GeForce GTX 760. As it was expected earlier, the card is based on GK104 graphics chip (on Kepler architecture) with 1152 CUDA cores, 32 ROPs and 96 TMUs. Its nominal clock frequency makes up 980 MHz, still this index might be overclocked at average to 1033 MHz.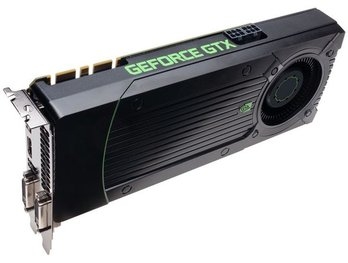 Reference adapter is furnished with 2 GB of GDDR5 memory that employs 256-bit interface. Nonetheless, Nvidia does not exclude the possibility of introducing the models with 4 GB memory capacity. The nominal memory clock frequency equals to 1502 MHz, while its overclocked frequency reaches up 6008 MHz. This adapter is thought to support GPU Boost 2.0 technology that adjusts the overclocking frequency in reliance on GPU thermal condition. Thus, the more powerful cooling system is, the higher frequencies the users might expect.
To continue, power supply subsystem is represented by a couple of 6-contact power sockets. The maximal claimed TDP level, ascribed to GTX 760, approximates 170 W. Connectivity facilities are introduced by four video ports: a pair of DVI, a single DisplayPort, and one more HDMI. As it was rumored, GeForce GTX 760 employs PCIe 3.0 x16 interface.
The list of supported technologies and instructions does not limit itself by Nvidia's brand elaborations only (Pure Video HD, SLI, PhysX, 3D Vision, AVSync, etc.); it also involves DirectX 11.1, DirectCompute 11, OpenCL1.2, OpenGL 4.2, and Shader Model 5.0. Retail pricing fluctuates within the boundaries of $249.