Որոնում վարորդների ID-ն կամ սարքի անունը
Հայտնի սարքեր: 165022367
Վերջինս հայտնի է վարորդ: 23.12.2020
Graphics Card MSI N680GTX Lightning 2 GB Review
Graphics cards from MSI Ltd. enjoy popularity among customers due to high-quality components and utmost performance. Currently, there are several company's model lines available in the market, but Lightning series deserves special attention. This is explained by the fact that the manufacturer managed to realize in its products the most advanced technologies to provide for complete satisfaction of various consumer needs. Its latest creation, graphics card MSI N680GTX, also belongs to the Lightning series and is targeting to marvel potential audience by outstanding specifications and facilities.
Overall Specifications
Graphics card MSI N680GTX Lightning is based on GK 104 Kepler GPU developed according to 28 nm technological process. Its working frequency approximates 1111 MHz in nominal mode and 1176 MHz in Turbo Boost mode. It accommodates 3540 million transistors and 1536 current processors. The model supports GDDR5 memory type with 256 bit interface. Memory working frequency is able to achieve 6008 MHz in 3D and 648 MHz in 2D; the overall memory volume capacity equals to 2048 MB. This graphics card consumes up to 195W of power in 3D mode when the PSU nominal power index equals to 550W. It employs PCI-e x16 (v3.0) interface and is equipped with such video outputs as HDMI v1.4a, DisplayPort v1.2 and DVI+DVI-D.
Layout
External look of MSI N680GTX Lightning has barely changed since the spring launch of MSI R7970 Lightning model. Both cards feature similar dimensions (300x125x49 mm) and such design peculiarities as black cover with contrasting yellow stripes in the top part, as well as silver logo stickers. Video output pins boast goldish sputtering. MIO sockets (used for the creation of different SLI configurations) are located in the top part of the circuit board. PCB is developed according to the brand Lightning Power Layer technology. With the purpose to ensure fool-proof supply of current when operating at high frequencies, the manufacturer equipped the card with a couple of eight-contact power supply sockets.
12-phase power supply system consists of CopperMOS power transistors, Dark Solid CAP capacitors with solid-state electrolyte, Hi-c CAP capacitors with tantalum core, and Golden SSC goldish throttle. The latter is called to ensure stability of voltage and security of current on high loading. Each phase is characterized by the availability of blue LED indicator at the rear part of PCB. The rear part of the board also contains GPU Reactor module which suggests 200% efficiency and stability on overclocking activities. Power control is fulfilled due to eight-phase PWM controller ChiL CHL8318.
Moreover, MSI N680GTX Lightning has got a range of tools for extreme overclockers: dual BIOS with LN2 settings, three sockets for voltage measurements (V-PLL, V-GPU, V-MEM), and absence of limitations pertained to voltage currents, etc.
The nominal delivery set includes DVI to D-Sub adapter, SLI bridge, a couple of power supply adapters from 6-contact to 8-contact sockets, three cables for voltage measurements, CD with drivers and applets, installation guidelines, and quality certificate corresponding to Military Class III standards.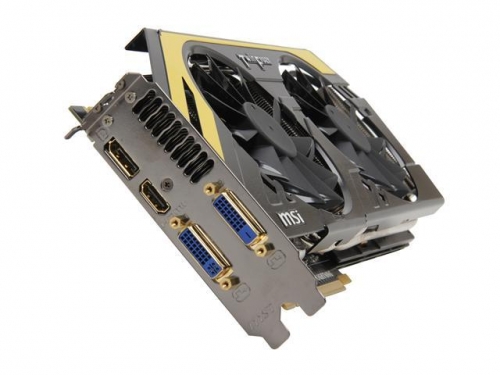 Cooling System
Graphics card MSI N680GTX Lightning is delivered with MSI Twin Frozr cooling system. It is fixed to the card by means of four screws and is easily removable. The cooler has got copper nickel-based bottom and additional heat dissipation plates, located on the frontal and rear parts of the circuit board. The implemented cooling system consists of two 100 mm fans (made by Power Logic) which promote for better airflow. They are based on sliding bearing and controlled by PWM controller. In addition, they are furnished with blue LED and dust removal system.
Power Consumption
It should be mentioned that this model consumes less power in overclocking regime than, for instance, system with AMD Radeon HD 7970 Edition at nominal frequencies. Hence, MSI N680GTX Lightning consumes up to 452W at nominal frequencies and up to 500W during overclocking activity.