Ökumenn eftir, eða nafn tækið
Þekktur tæki: 165022367
Síðasta þekkta bílstjóri: 23.12.2020
New High-End Motherboards for AMD CPUs from ECS
ECS is going to release a new high-performance motherboard of Black Series line that supports AMD CPUs. Codenamed A970M-A Deluxe, it is compatible with AM3/AM3+ APU and is characterized by the integration of the latest technological facilities which provide for efficiency, reliability, and ease of use. The model is developed on the basis of AMD 970 chipset; this is supposed to ensure the maximal performance generated by the newest processors, and at the same time, the compatibility with the previous developments. Moreover, A970M-A Deluxe completely supports Windows 8 platform and a range of refined technologies, including EZ BIOS, UEFI BIOS, ECS MIB X, 8-channel audio HD and Anti-Dust Shield Technology.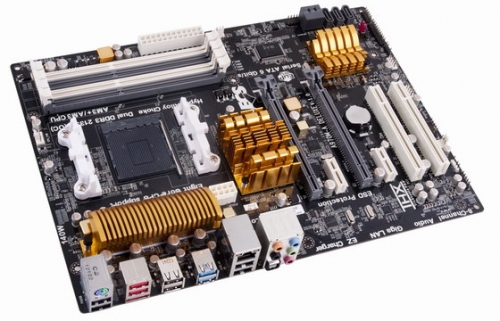 Motherboard ECS A970M-A Deluxe is developed in ATX form-factor. It accommodates 32GB of two-channel DDR3 memory housed on four DIMM slots. The nominal memory frequency equals to 1866 MHz, but this index might achieve the margin of 2133 MHz on overclocking. The board is equipped with a couple of PCI Express Gen2 x16 slots to ensure the support of CrossFireX graphics configuration, two pairs of PCI and PCI Express Gen2 x1 slots for the connection of other cards. The set of facilities is notable for the employment of SATA III 6 Gb/sec interface used for the connection of high-speed hard drives and other data storage units.
To continue, connectivity expansion facilities are guaranteed by the implemented eight USB 2.0 ports, two USB 3.0 ports, a single gigabit LAN, and eSATA 6Gb/sec connector for fast and reliable data transfer to external drives. In addition, the motherboard is furnished with three internal USB 2.0 sockets which might secure six supplementary USB 2.0 ports.
ECS A970M-A Deluxe combines a wide spectrum of advanced technologies that add versatility to high-end PC systems:
— Anti-Dust Shield Technology: the name itself presupposes the total protection from dust. Dust is the main reason for breakdowns of vital components and malfunctions within the system. Thus, this technology stops the dust from settling on the board's elements;
— EZ Charger: this technology allows charging mobile devices and different peripherals from PC. But its main privilege is seen in a safe and increased provision of current, if compared with traditional USB cables.