드라이버 ID 또는 장치의 이름을
알려져 장치: 165022367
마지막으로 알려진 드라이버 23.12.2020
SSDs Corsair Neutron and Corsair Neutron GTX Review
Current conjuncture in the market of drives proves that SSDs do not require special advertising. Their demand index rises every single day, along with the increasing supply. Corsair, a well-known manufacturer of various PC hardware solutions, has successfully 'assimilated' advanced LAMD LM87800 controllers, and developed two SSD items at once based on this controller. Codenamed Corsair Neutron and Corsair Neutron GTX, these drives are intended at different customer audiences. Both models feature similar internal layout, but differ in the integrated interfaces and memory types.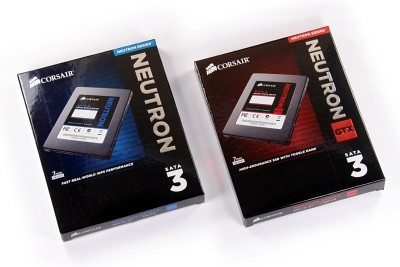 Specifications
Model Corsair Neutron is considered to be cheaper than GTX version, so its specifications are more modest. It employs MLC flash-memory type with ONFI interface developed under 25 nm technological process. Its companion, Corsair Neutron GTX, belongs to the high-end SSD echelon and employs MLC flash-memory type with Toggle Mode interface designed under 24 nm technological process. Both models feature SATA 6 Gb/sec interface and are delivered in two volume capacity variations: 120GB and 240GB. Some of their main specifications are listed below:
1. Corsair Neutron (120GB, 240GB): these drives employ DDR2-800 cache-memory type with 256 Mb interface. Both models demonstrate analogous showings of random Read/Write speeds (4 KB) – 90000 IOPS and 85000 IOPS correspondingly, and analogous index of consecutive Read speed – 555 Mb/sec. The only distinction is the maximal Write speeds: model of 120GB capacity is able to develop the speed of up to 211 Mb/sec, while 240GB model – up to 370 Mb/sec.
2. Corsair Neutron GTX (120GB, 240GB): these SSDs employ DDR2-800 cache-memory type (256 Mb), similar to the counterpart. The maximal random Read speed (4 KB) equals to 90000 IOPS in both models; the maximal random Write speed (4 KB) approximates 80000 IOPS (120GB) and 85000 IOPS (240GB). Both variations are characterized by 555 Mb/sec of consecutive Read speed, with 330 Mb/sec (120GB) and 511 Mb/sec of consecutive Write speed.
Integration
Corsair Neutron and Corsair Neutron GTX are delivered in compact cardboxes which contain SSDs (housed in solid perspex blisters), fixing screws, and slides-adapter for the installation into 3.5 inch bay of the chassis. The drives are dressed in metallic casings of 7 mm in depth. Such dimensions imply that these products can be integrated not only in traditional desktop PCs, but also in more compact mobile devices. The external design of both models is differentiated merely by info stickers on the frontal panel. The casing's parts are joined by latches, not by screws used in the majority of SSDs nowadays.
Corsair Neutron series is based on different printed circuit boards, still, controller LAMD LM87800 in both models joins a metallic casing via thermal interface. One of the peculiarities pertained to the products is that there is a temperature sensor that monitors the heat while operation. Corsair Neutron GTX is equipped with eight flash-memory chips manufactured by Toshiba. They feature Toggle Mode interface and contain four NAND crystals. Corsair Neutron GTX accommodates sixteen flash-memory chips with ONFI interface (designed by Micron). Each chip contains two NAND crystals.
LAMD Controller
The integrated into Corsair's drives controller, LAMD LM87800, has got similar features with Marvell controllers in terms of layout. Similar to Marvell, LAMD is based on a couple of microprocessors with ARM architecture; one of the processors is responsible for flash-memory operation, while the other – for SATA interface realization. Speed characteristics are considered to be LAMD forte; nevertheless, speed is not the only privilege of this controller, since the manufacturer equipped the product with a number of brand technologies. The package of technologies is entitled eBoost. It consists of patented algorithms of signal adaptive estimation and features error-correction live options.