Ieškoti tvarkykles, ID ar pavadinimą
Žinomos įtaisai:165022367
Paskutinis žinomas vairuotojas: 23.12.2020
Lian Li PC-10N: Chassis with an Extraordinary Motherboard Localization
Lian Li, a well-known manufacturer of PC cases, has officially introduced its newest chassis codenamed PC-10N. The model is designed in a popular mid-tower form-factor and is ready to accommodate motherboards of ATX, mini-ITX and micro-ATX standard. The chassis differentiates itself by an unusual motherboard localization: instead of conventional tray, the layout stipulates dedicated strips that fix the board. This was done with the aim to provide for a better airflow and to facilitate cable management process. Besides, absence of the tray makes the case much lighter.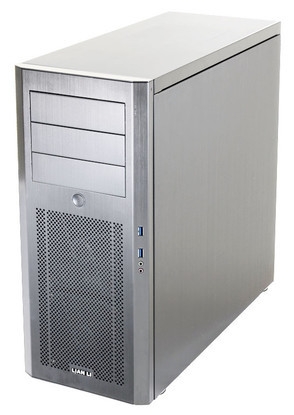 Lian Li PC-10N is delivered in two color samples: silver (PC-10NA) and black (PC-10NB). Internal framework allows for the assembling of quite powerful PC systems. It might house rather high CPU coolers (up to 155 mm), rather lengthy expansion cards (up to 300 mm), and ATX-compatible power supply units of up to 300 mm in length. There is a possibility of removing HDD bay to free space for even more lengthy adapters (up to 440 mm). Additionally, this chassis supports the installation of three 5.25-inch drives, six 3.5-inch and two 2.5-inch drives.
To proceed with PC-10N specifications in should be mentioned that the model boasts also quite extraordinary cooling system localization. A voluminous 240 mm heatsink, which is a part of a liquid-cooling system, is located over the CPU socket. It is fixed by hinges that open sideways; this ensures trouble-free access to it. The case's framework presumes a pair of particular notches for liquid-cooling hoses and a special frame for the heatsink installation.
Air cooling is secured by two pre-installed frontal fans and one rear fan, all of 120 mm dimensional type. In addition, there is a chance of integrating three more fans. External I/O interface panel houses two USB ports (of 3.0 version) and two mini-jack sockets (for a microphone and headphones). Lian Li promises to start the sale campaign already in mid-August. The price will not exceed the boundaries of €115.