Is-sewwieqa mill-ID jew l-isem tal-apparat
Apparati Magħruf:165022367
L-aħħar magħrufa xufier: 23.12.2020
Corsair Outs H105 CPU Liquid Cooler from Hydro Series
Corsair is glad to announce an official release of a new CPU liquid cooler from Hydro series. Entitled H105, the greenhorn is remarkable by easy mounting without any tools and by absence of need in maintenance. Both models are compatible with the majority of latter-day platforms, embracing AMD Socket AM2, AM3, FM1, and FM2, as well as Intel LGA 2011, 1150, 1155, 1156, and 1366.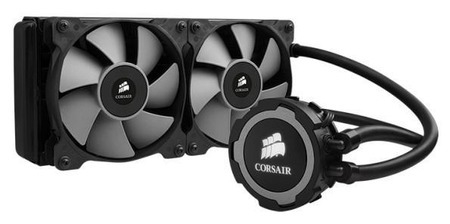 Corsair Hydro Series H105 consists of a massive heatsink (272.5x120x38 mm dimensions), a small-sized waterblock with a copper plate and micro-channels, and a pair of low-noise fans. The augmentation of heatsink thickness from 27 to 38 mm resulted in the widening of heat dissipation area. The waterblock is furnished with a bright backlight.
Two 120 mm SP120L fans feature 120x120x25 mm dimensions. Their rotational speed is adjusted by means of PWM technology, relying on CPU temperature. Hence, they operate in a quite extensive rotational range: 800-2700 RPM. Their maximal airflow achieves the margin of 73 CFM, whereas the noise level does not step up 37 dB.
Corsair delivers H105 liquid coolers with a set of useful contents: a mounting bracket and other hardware components, color accent rings, a Y cable for fans connection, and a Quick Start Guide. All potential customers are able to acquire the model for some $120.