Search for drivers by ID or device name
Known devices: 165022367
Latest known driver: 23.12.2020

The MSI vendor has announced a compact work station under the Vortex W25 name. The novelty is equipped with the 8th gen Intel Core i7 processor, performed according to the 14 nm technology. This computer obtained a motherboard based on the Intel Z370 logic set.
The graphics subsystem is represented by the professional NVIDIA Quadro discrete accelerator. Top configuration presupposes the presence of Quadro P5200 adapter and 16 GB of memory. There are four slots for SO-DIMM RAM modules, while the ultimate RAM volume supported is 64 GB (DDR4-2400). The storage subsystem may contain two high-speed NVMe M.2 SSD solid-state modules and one 2.5-inch drives.
The work station is supplied with Wi-Fi 802.11ас and Bluetooth 5 wireless adapters. Besides, there is a Gigabit Ethernet network controller for wired connection to computer network. The interface kit includes USB Type-C/Thunderbolt 3, HDMI 2.0, USB 3.0 Type-A ports and an audio jack. The specialty by MSI …
(
Read more
)
Kingston Digital reported beginning of UV500 family SSDs deliveries. These devices possess a SATA interface and are compatible with desktop computers, workstations and laptops.
The storage units are available in 2.5-inch, M.2 2280 and mSATA form factors. In the first case the capacity claimed is 120, 240, 480, 960 GB and 1.92 TB. M.2 2280 SSDs are represented in 120, 240, 480 and 960 GB modifications. mSATA modules offer 120, 240 or 480 GB of volume for data storing.
Kingston drives rely on 3D TLC NAND flash memory chips and the Marvell 88SS1074 controller. The average error-free running time (MTBF) stated is 1 mln hours. The sequential write speed varies in the range of 320–500 MBps, which depends on the model. The sequential read velocity comes to 520 MBps with all samples. The IOPS rate reaches 79,000 at reading and 45,000 at writing processes, when dealing with 4 KB data chunks. The drives support AES-256 algorithmic …
(
Read more
)

The Thermalright company has commercialized the ARO-M14 cooling system, designed for AMD Ryzen processors. The novelty got the shape of a standard tower cooler. It's available in two versions differing in colour of the upper plate of a heatsink. The manufacturer claims, its product is able to disseminate up to 240 W of heat output.
The Thermalright ARO-M14 heatsink with the 140 x 115 x 162 mm dimensions weighs 720 g. The system features the copper nickel-plated base, six copper heat pipes (6 mm in diameter) and an array of aluminium fins.
The supply kit contains a 140 mm TY-147 fan, operating at the 300–1,300 rpm velocity. The propeller produces up to 73.6 CFM (125 m³/h) airflow at the ultimate 21 dBA noise level. The list of processing platforms supported includes AMD AM4 only.
One may purchase Thermalright ARO-M14 in many European stores for about €50.
(
Read more
)

Intro
Ultra-wide monitors with a large diagonal over the past couple of years that we have gradually become accustomed to, but in its majority such models were purely gaming ones – and it is widely known that there are no higher requirements for image quality to such monitors. LG 38WK95C – is a "universal" home model, which is suitable for both games and video, and even for work with colors - thanks to the factory calibration.
Design concept
The monitor is made in a frameless style, but it still has a thin frame framing the screen - it is a strip of metallic color, encircling the body around the perimeter and distinguishing the "blackness" of the display and white glossy plastic on the back side.
The leg looks minimalistic - a simple pillar of gray color, it fits into an arch-shaped stand that seems too thin and delicate for a monitor with the weight of almost 8 kg. However, this "arc" is completely …
(
Read more
)
The ADATA manufacturer has officially introduced two new external memory units, called ADATA HV300 and ADATA HD330.
ADATA HV300 obtained a stylish and thin (10.3 mm only) case. The other novelty, instead, got a protected shockproof design with the absorbing silicone covering. Both devices are available in 5 capacity variants – 1, 2, 3, 4 and 5 TB, to be more precise. Besides, all of them have a USB 3.1 port.
The two specialties by ADATA are supplied with a special sensor, registering shocks or cases of falling down during operation and terminating the inner drive activity to prevent data corruption or bad-sectors emergence. Happy owners of ADATA HV300 and ADATA HD330 may utilize brand HDDtoGO software for free, so they get a possibility to encrypt data with the help of 256-bit AES-algorithm.
The novelties will be shipped in various colour versions with the interface cable added to the supply kit. Prices are unveiled yet.
(
Read more
)

Introduction
A great variety of coolers gives you an opportunity to choose one that fits to your needs and budget. The given cooler is the successor of be quiet! Dark Rock PRO 3 that was released a pair of years ago. It is interesting to note that the price for Pro 3 doesn't decrease with the appearance of a new model. As it must be, the newest model has the best marks for its silence and performance. In general, be quiet! introduced two devices in this series: Dark Rock PRO 4 and Pro editions respectively. They have an improved mounting system making both models easier for assembling and installing.
Main Specifications
MANUFACTURER - be quiet!
MODEL - Dark Rock Pro 4
SOCKET SUPPORT - Intel: LGA1150, LGA1151, LGA1155, LGA1156, LGA1366, LGA2011, LGA2066
AMD - AM2, AM2+, AM3, AM3+, FM1, FM2, FM2+, AM4
HEATSINK - Material: Aluminum (Fins), Copper (Heat pipes & Base)
Dimensions - 162.8 mm x 136 mm x 145.7 mm
Heatpipes - Ø6 mm - 7 pcs
… …
(
Read more
)

Welcome the series of stylish compact mini PCs by MSI, named Cubi N 8 GL. As we may see from the name of this line, novelties hold Intel Gemini Lake processing units inside. To be exact, we are talking about Intel Celeron J4005 (2/2 x 2.0–2.7 GHz) and Intel Pentium Silver J5005 (4/4 х 1.5–2.8 GHz) with Intel UHD Graphics 600 (12 x 250–700 MHz) and Intel UHD Graphics 605 (18 х 250–800 MHz) embedded graphics adapters.
The RAM subsystem is represented by one SO-DIMM slot supporting maximum 8 GB of DDR4-2400, which means there's no way to establish a dual-channel mode. The disk subsystem may include either a regular 2.5-inch HDD/SSD or a space effective M.2 2280 solid-state drive, possessing SATA 6 Gb/s or PCIe 2.0 х2.
Network options are ensured by the Intel Dual Band Wireless-AC 9461 (802.11ac Wi-Fi (433 Mbps) and Bluetooth 5.0) module and a gigabit Realtek …
(
Read more
)

The latest AOC AGON AG352UCG6 gaming monitor is already available at the American market, where it goes for 900 USD. This specialty got the 35-inch MVA panel, featuring the 2,000 mm curvature radius, 4 ms response time and 120 Hz scanning frequency. At the same time, NVIDIA G-SYNC technology is applied to ensure clear imaging and smoothness.
The resolution of AOC AGON AG352UCG6 is 3440 х 1440 (aspect ratio: 21:9), which will be highly evaluated by movie enthusiasts. The excellent dark black, as well as perfect colour rendering are the results of the 2500:1 static contrast. The typical brightness rate is 300 cd/m2, and viewing angles reach 178°.
On top of everything, AOC AGON AG352UCG6 has two integrated speakers (total capacity is 4 W). Among front-end interfaces one may find 1 х HDMI 1.4, 1 x DisplayPort 1.2, 2 x USB 3.0 and 1 x 3.5 mm audio. The ergonomic AOC Ergo Base …
(
Read more
)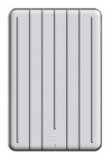 Silicon Power presents its unique and eye-catching portable solid-state drive, named Bolt B75, which may be easily mistaken for an external Silicon Power Armor A75 hard drive.
Developers assure customers, that they were inspired by a legendary German passenger-carrying aircraft Junkers F.13 while planning design of the device. The manufacturer reports the SSD Bolt B75 aluminium framework outwardly resembles ridged metalling, which was utilized in production of Junkers F.13 almost 100 years ago. This design solution was tried out in the external Armor A75 hard disk, released in November last year.
The novelty has the 124.4 х 81.9 х 12.2 mm dimensions and weighs 68–85 g. Inside there are NAND flash memory chips of the 120, 240, 480 or 960 GB total capacity. USB 3.1 Gen1 Type-C port serves as an interface.
Speed rates of each Silicon Power Bolt B75 sample are not stated, however we know maximum figures. They are …
(
Read more
)
Introduction
In the continuous flow of gamer monitors' announcements, the fact that they are a rather narrow segment of the market is practically lost - the ordinary buyer is more interested in universal models that are suitable for all tasks, and at the same time will not cost the amount exceeding the cost of the system unit. One of such "multimedia" monitors, as they are also called, is the ASUS Designo MZ27AQ, whose distinctive feature is an external subwoofer. And just have a look at its delicate forms – a real pleasure.
Designing solution
ASUS MZ27AQ belongs to the "designer" line of ASUS monitors, in which the appearance was always given special significance - it is not surprising therefore that it looks really good, although it is quite traditional for this line. Very slim body (about 7 mm in the main part and about 5 cm at the bottom block with electronics), frameless screen design (in the included view …
(
Read more
)