Stuurprogramma ' s door ID of de naam van het apparaat
Bekende apparaten:165022367
De laatst bekende stuurprogramma: 23.12.2020
At Present ASRock Is Ready to Release DeskMini GTX, the 2.7 l mini PC Housing the GeForce GTX 1080 Card
Last year the ASRock manufacturer added RX and GTX samples to the DeskMini PCs family. These small-size products are able to hold Radeon RX 480 and GeForce GTX 1060 discrete video cards in the form of MXM modules.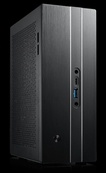 The ASRock company decided to develop its DeskMini RX/GTX models further and constructed a similar mini PC, housing the GeForce GTX 1080 3D card.
Now the dimensions are not much larger and make 213 х 154.5 х 81.9 mm (corresponding to 2.7 l). The great news is that the specialty can be equipped with GeForce GTX 1060, GTX 1070 and even GTX 1080 graphics accelerators! Presumably, the CPUs list includes the 6th and 7th generations Intel processors up to Core i7 with the 65 W TDP.
ASRock mini PCs can obtain 32 GB of RAM. Two 2.5-inch and three M.2 drives (Optane storage devices among them) can be installed. Connectivity is provided by the Gigabit Ethernet, USB-C 3.1, three USB 3.1, two USB 2.0, two HDMI and two DisplayPort ports.