Căutați drivere de ID-ul sau numele dispozitivului
Aparate de cunoscute:165022367
Ultimul cunoscut driver: 23.12.2020
Cougar Panzer Evo Chassis is Ready to House Motherboards of the Extended ATX Format
Lately the German Cougar vendor has released the Panzer Evo chassis, the outer appearance of which resembles the Panzer-G model. It has four panels out of tempered glass, too. However, the novelty belongs to the Full-Tower form factor.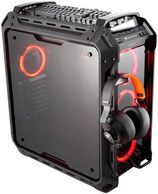 The dimensions of Cougar Panzer Evo are 556(L) x 266(W) x 612(H) mm. Inside one may see mounting seats for eight expansion cards, four 2.5" and two 3.5" drives, an ATX compatible power supply unit and a CPU cooler 170 mm high. The length of graphics adapters may reach 390 mm. Cougar produced its product compatible with motherboards of up to the Extended ATX format.
Besides, Panzer Evo allows installing four liquid cooling system heatsinks: one 120 mm chilling device may be mounted at the rear, one 140/120 mm – at the bottom, one 360/280 mm – on the front and one 360/280 mm – in the upper part.
The supply set contains four 120 mm propellers with red LED illumination. Connectivity options include two USB 3.0, two USB 2.0 ports and a couple of 3.5 mm audio jacks. Control buttons, responsible for the embedded fans controller operation, are also present.
The Panzer Evo framework by Cougar costs approximately €160.