Căutați drivere de ID-ul sau numele dispozitivului
Aparate de cunoscute:165022367
Ultimul cunoscut driver: 23.12.2020
The European Retail Is Ready to Accept the Bezel-Less Deepcool MF120 Fan
MF120 was one of the most attractive Deepcool showpieces at the last year Computex and CES events. On a recent day the manufacturer reported, that in the nearest future this device is going to become an object of European retail.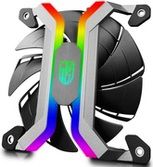 Deepcool MF120, built on the base of the fluid bearing, possesses a 9-blade 120 mm propeller and is advantageously distinguished against similar solutions due to its modern bezel-less design. The specialty is enframed by two aluminium posts, supplied with the LED RGB-backlighting.
The fan has the function of speed regulation (rotary velocity may be adjusted in the range of 500–2,200 rpm) and ensures the air flow of up to 56 CFM (95 m³/h), while holding the noise level at the 37.9 dBA maximum. One may manage the fan rotary speed either via appropriate motherboard means or with the help of a mobile app, however, MF120 must be connected to a special controller in this case. The same programme lets perform the LED illumination setup.
Stores of Europe will get Deepcool MF120 in April. The recommended price of a kit, consisting of three propellers and a controller, is 110 EUR.