Căutați drivere de ID-ul sau numele dispozitivului
Aparate de cunoscute:165022367
Ultimul cunoscut driver: 23.12.2020
The XS700 Portable SSD by Toshiba Is Supplied with a 3-Year Warranty and a 450 mm I/F Cable
The Toshiba Company has announced its latest external solid-state drives line, called Toshiba XS700. At the moment this series includes only one model of the 240 GB capacity. The device is produced in a regular 2.5-inch form factor; the framework height is extended, though. Dimensions are 95 х 75 х 11 mm, weight is 90 g.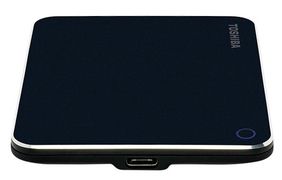 Toshiba developers applied the combination of the 3D BiCS TLC NAND microchip and the Phison S11 controller. The specialty is equipped with a front-end USB 3.1 Gen 2 Type-C port, and commutation is ensured by the VIA VL715 chip, which means USB-attached SCSI (UASP) protocol is also supported. Owing to such specifications the transfer read speed in ATTO Disk Benchmark reaches 530 MBps, while the transfer write speed – 480 MBps.
Regretfully, we have no news about Toshiba XS700 SSD's cost now. But we are armed with information that the novelty will be retailed, possessing a 3-year warranty and a 450 mm (17.72 inches) interface cable. Besides, it will be possible to download a handy SSD Utility app for monitoring and maintaining the disk.