Поиск драйверов по ID или имени устройства
Известных устройств: 165022367
Последний известный драйвер: 23.12.2020
The single-board Hardkernel Odroid-XU4Q PC Got a Massive Heatsink Instead of a Fan
The single-board Odroid-XU4 PC by Hardkernel, released in 2015, has got its new modified successor, called Odroid-XU4Q, which allows to construct devices for smart houses and Internet of things. There are no profound changes, though. A new version obtained a rather large sized (40 х 40 х 25 mm) heatsink instead of a low-profile fan. Such a solution makes the PC operation completely silent.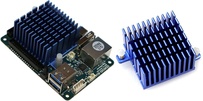 The board is based on the Samsung designed Exynos 5422 processor; the chipset is built on the ARM big.LITTLE architecture – it has four Cortex-A15 cores with up to 2.0 GHz clock speed and four Cortex-A7 cores with up to 1.4 GHz frequensy. The integrated Mali-T628 MP6 controller provides graphics processing.
The novelty from Hardkernel features 2 GB of RAM, a microSD card slot, one HDMI 1.4, one USB 2.0, two USB 3.0 and Gigabit Ethernet interfaces. The flash module capacity can be equal to 16, 32 or 64 GB.
Customers can purchase a monoboard ODROID-XU4Q PC at the approximate $60 price. It is also possible to choose among several variants of casing contributing to the aesthetic look.