Трагање за возача по ИД или име уређаја
Познатих уређаја: 165022367
Последњи познати драјвер: 23.12.2020
Greeting Versa H23 and H23 Window Cases from Thermaltake
Budget-oriented series of PC cases from Thermaltake has been replenished with two new models: Versa H23 and Versa H23 Window. The mere difference between the two enclosures is the availability of a side-faceted acrylic window in 'Window' version. Still, both mid-towers feature 429x209x491 mm dimensions and come with a totally black coating. Their internal spacing is sufficient to include standard ATX, as well as contracted micro-ATX motherboards.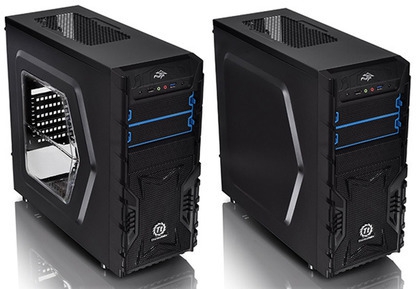 Thermaltake Versa H23 and H23 Window boast two 5.25-inch, six 2.5-inch and three 3.5-inch trays for the installation of various drives. All of them might be mounted without any special tools, due to a polished clipping system. The cases offer seven PCI slots to expand the system's functional.
Additionally, the models support the installation of CPU coolers of up to 156 mm in height, graphics cards of up to 315 mm in length, and a standard PS/2 power supply unit. The I/O panel is located in the top-front panel. It embraces Power and Reset buttons, two 3.5 mm audio ports, and two USB ports (3.0 and 2.0 each).
Both new-comers might boast an optimized airflow, as well as the possibility to incorporate different cooling solutions. Therefore, the manufacturer equipped the cases with one rear Turbo Fan of 120 mm standard; it rotates at 1000 RPM and produces not more than 16 dB noise. For sure, it's feasible to enhance airflow by adding four other 120 mm fans: 2x on the frontal panel and 2x on the top panel.
As an additional option, the user is able to incorporate a liquid-cooling system on the base of 120 mm heatsink. In order to facilitate its mounting, Thermaltake has foreseen two rubber grommets on the rear facet, which should be employed for tubing.