Förare av ID eller namn på enheten
kanda enheter:165022367
Den sista kända förare: 23.12.2020
Dual Invasion: Silentmaxx & SilverStone Show Off with New PC Cases
Silentmaxx, a well-known German developer of PC hardware components, comes out into the market with a new mid-tower case, entitled ST-360. It features 450x195x431mm dimensions and boasts a strict classic design. The chassis is made of SECC steel and ABS plastic. It is intended for the installation of mini-ITX, micro-ATX and full-format ATX motherboards.
Furthermore, Silentmaxx ST-360 is ready to accommodate four 5.25-inch drives and analogous number of 3.5-inch drives. Similar to the majority of full-tower cases, this model offers seven expansion slots for the installation of graphics adapters and expansion cards. The integrated top I/O panel houses two 3.5- mm mini-jacks as well as USB ports (2.0/3.0 versions). Airflow is organized by means of two fans: 140-mm frontal fan & 120-mm rear one.
To continue, one more renowned hardware manufacturer – SilverStone – has just introduced its nontrivial PC chassis – a modernized version of Milo ML06, the Milo ML06-E (Evolution). It features 350x99x205 mm dimensions and boasts an aluminum frontal panel.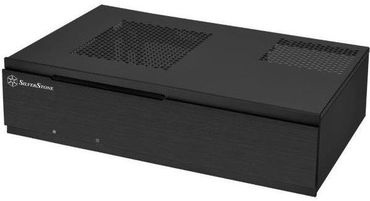 The new-comer is differentiated by the support of SFX power supply unit that might be installed in the right-side section. In contrast to the etalon model, this chassis has got the second slot for the integration of an expansion card. Moreover, the case offers three bays for the installation of fans (2x 80 mm, 1x 120 mm). Nevertheless, the 120-mm fan might be substituted by an optical drive or a 3.5-inch drive.