Förare av ID eller namn på enheten
kanda enheter:163074949
Den sista kända förare: 15.12.2019
NEC launches ultrabook based on Core i7 weighting 875g
Japanese company NEC has prepared a unique laptop VersaPro UltraLite VG for state market of the rising sun. The use of light materials and advanced components has reduced the weight of a 13.3-inch laptop up to 875g total.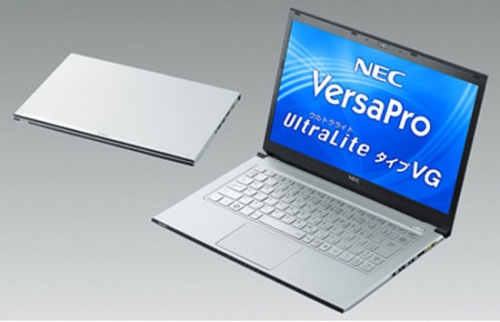 The body of ultrabook is made of magnesium-lithium alloy and has thickness of 14.9 mm. The product is designed for business travelers who need high performance in small form factor. The «heart» of the laptop is dual-core Core i7-3517U (Ivy Bridge), operating at a frequency of 1.9 GHz to 3 GHz, depending on the load. To it was joined by 4 GB of RAM SO-DIMM DDR3 and a 128-gigabyte SSD-drive. Built-in Intel HD graphics 4000 (350/1100 MHz) will provide an opportunity to play casual games on the screen with a resolution of 1600x900 pixels and LED-backlit display. Windows 7 Professional OS is installed on this ultrabook.
It is worth mentioning about the presence of USB 3.0 ports and HDMI, network interfaces Wi-Fi and Bluetooth, card reader, HD webcam and battery with a resource of battery life to 8 hours. Charging the battery up to 80% level is performed by one hour. Price NEC VersaPro UltraLite VG of 3800 dollars, of course, will scare away many potential buyers, but for affluent Japanese, this amount is not excessive.