Madereva na ID au jina la kifaa
Inajulikana kifaa: 165022367
Mwisho inayojulikana dereva: 23.12.2020
MSI MAG Pylon – the ATX Chassis with Tempered Glass Panels Aimed at Gaming PCs Mounting
The MSI Co. Got active in the computer cases sector and finally introduced its MSI MAG Pylon model representing a gaming series. The framework of this ATX format product is performed out of 0.6 mm SECC steel. The novelty also possesses 4 mm panels (front and side) made of hardened glass.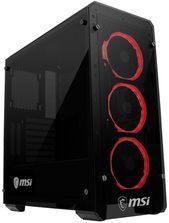 The inner structure features the regular double-chamber design: at the bottom there is enough space for a power supply unit and two 3.5"/2.5" drives, while at the top one may mount a motherboard with up to 7 horizontal and 2 vertical expansion slots. It's possible to locate four2.5-inch drives behind the tray for a mother card.
Chilling process is ensured by three 120 mm fans with RGB LED illumination, installed at the front panel. Propellers are compatible with MSI Mystic Light app and may be replaced with a couple of 140 mm fans. In other case two extra 140/120 mm propellers may be mounted at the top and one 120 mm – at the back panel. The external interfaces set offers two USB 3.0, two USB 2.0 ports and one 3.5 mm audio connector.
There's no info about the price of MSI MAG Pylon yet.