ขับรถโดยหมายเลขหรือชื่อของอุปกรณ์
รู้จักอุปกรณ์: 165022367
สุดท้ายที่รู้จักไดรเวอร์: 23.12.2020
Aresze Launches Windcatcher 9100B Enclosure for 'Extreme' Consumers
Aresze has just announced the sales start of its new Full-Tower enclosure, codenamed Windcatcher 9100B. This product is supposed to attract, first of all, gamers and extreme experiencers who wish to integrate high-performance and solid desktops. The major privilege of Windcatcher 9100B is its comprehensive nature that permits users to select varied configurations and cooling systems.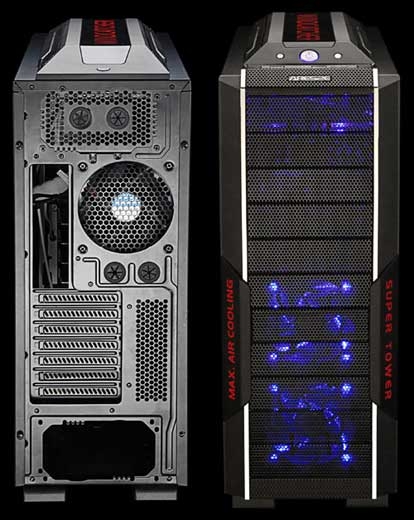 Windcatcher 9100B design is developed with technological and aesthetic considerations in mind. The casing is made of durable, cold-rolled steel. The clipboard is made of aluminum and goes with perforation grids. Side plates (which are detachable) go also with ventilation grids to ensure optimal airflow within the casing. The integrated blue LED creates a magnificent effect, adding some refinement to the enclosure.
This model is a multi-purpose solution, allowing the customer to employ it with motherboards of different form-factors (E-ATX, ATX and micro-ATX). Windcatcher 9100B is capable to accommodate six high-end fans: three fans at the top of the casing (for blow-off), two fans in the frontal part (for blow-in), and a single fan at the rear part (for blow-off). In addition, this enclosure is furnished with four external 5.25-inch and eight internal bays for the installation of 2.5/3.5-inch drives. USB 2.0 and USB 3.0 ports found their places at the top exchange panel.
Well-considered internal layout and the availability of eight PCI slots promote for the installation of diverse graphic adapters. Moreover, the casing might accommodate two PSUs of ATX or EPS standards with top or bottom localization.