Arama sürücülerinin KİMLİĞİ veya aygıt adı
cihazlar Bilinen lang:165022367
Bilinen en son sürücü: 23.12.2020
A 55" AIO by Cisco Performs at Least Three Functions for the Perfect Conferencing Experience
The Cisco Company has demonstrated a new huge all-in-one PC, called Spark Board.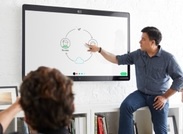 This device has got a 55-inch 4K UHD touch screen, though, an optional 70" version is forthcoming. Key Spark Board specifications also include a camera, supporting 4K video, speakers, several microphones, wireless interface adapters, HDMI, Gigabit Ethernet and two USB 3.0 ports. The Cisco AIO is driven by the NVIDIA's Jetson TX1 supercomputer with 1 TFLOPS Tegra SoC.
The platform under consideration was chosen to implement benefits of Cisco Spark Board OS functions.
Mostly the novelty is intended for meetings and simultaneously operates as a screen for presentations, an interactive board for collaboration and a conferencing device.
Spark Board weighs 39.8 kg and is 814 х 1283 х 49 mm in size. It is available at the cost of $5000 plus one should pay extra $200 per month for the software.