Search for drivers by ID or device name
Known devices: 165022367
Latest known driver: 23.12.2020
Seven-Port USB 3.0 Hub H7988-U3 from Orico
Chinese company Orico has just voiced good news for all people craving for a comprehensive device which enables numerous USB 3.0 connections. Its new seven-port hub H7988-U3 is able to satisfy the needs of any customer who feels the need for several simultaneous USB 3.0 connections. This is not the first Orico's attempt to produce a really multi-functional device. The company has recently introduced PC expansion chip with PCI Express x1 interface which involved seven ports as well. Analogous functionality has been implemented in a new external hub H7988-U3.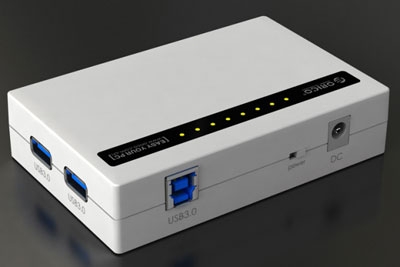 Orico H7988-U3 goes in two color variants (black and white) and is based on VIA VL801 controller. The framework of the hub is rather suitable for the multi-connection operations. All available USB 3.0 ports are located on the side plates: three ports on the frontal plate, and two in each side plates. The rear plate accommodates the switch, USB 3.0 port to be connected with PC, and input to be connected with the power network adapter.
This is all information about the hub Orico H7988-U3 till this moment. Orico designers decided to keep carrying on an intrigue pertained to the detailed specifications, sales start date and pricing policy. However, they underline that the start of the sale campaign is not far off.