Пошук драйверів на ID або імені пристрою
Відомих пристроїв: 165022367
Останній відомий драйвер: 23.12.2020
An elegant white CORSAIR RM1000i Special Edition Power Unit
The CORSAIR Company celebrates its 10th anniversary since the first release of power units. This manufacturer has already passed out 10 mln of power supply devices. To mark this great event out the company presented a snow-white CORSAIR RM1000i Special Edition model with white fan LED-lighting.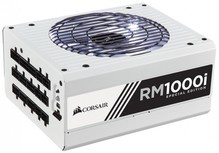 There will be only 100 samples available on sale, each having its own serial number. The overall CORSAIR RM1000i Special Edition power equals to 1,000 W, and the efficiency factor is 90% (the 80 PLUS Gold certification is received). By default it uses eight +12V virtual circuits with 40 А load capacity, though if necessary, one can put them into one powerful +12V channel with the max output capability of 1,000 W.
Needless to say, that the up-to-date circuit technology and top-grade element base are inside. A 135 mm fan, based on FDB bearings, is installed to provide active cooling. Also the CORSAIR RM1000i Special Edition cable system is entirely module and possesses handy line loops. There are 8 PCIe slots and 12 SATA, so there must be no problems with connecting.
The price of this product is $199.99.