Điều khiển bởi ID hay tên của các thiết bị
Được biết đến các thiết bị:165022367
Cuối cùng biết, driver: 23.12.2020
Cooltek Rolls Out Thermolab CPU Coolers
Enlisting up support of a well-known German manufacturer PC Cooling GmbH (Cooltek brand), Thermolab brought on the European market a pair of small-sized CPU coolers. Codenamed LP53 and ITX30, the products are differentiated by the depth of the copper plates and the dimensions of the pre-installed fan. Both new-comers are predestined for mini-ITX and micro-ATX platforms with Intel LGA1156/1155/1150 socket and 100 W TDP processors.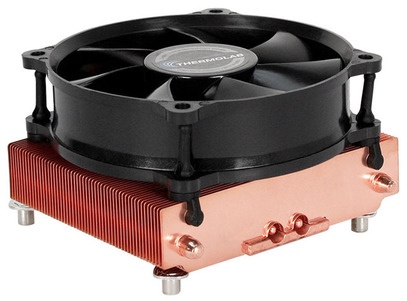 The Thermolab LP53 features 100x94x53 mm dimensions and weighs 410 g (including fan). It consists of a copper base, two 6 mm heatpipes, and 7-blade PWM fan of 92 mm dimensional type. The latter is able to rotate within the speed range of 1000 RPM to 2100 RPM, producing up to 27 dB noise. The cooler's price does not transcend 37 EUR.
In its turn, the Thermolab ITX30 features 100x94x30 mm dimensions and weighs 300 g. It accommodates a copper base, a heatsink, two 6 mm heatpipes, and a single 80 mm PWM fan. It supports a wider speed range – from 1400 RPM to 2500 RPM, — producing not more than 27 dB noise. The recommended by the manufacturer price makes up 35 EUR.