Điều khiển bởi ID hay tên của các thiết bị
Được biết đến các thiết bị:163074949
Cuối cùng biết, driver: 15.12.2019
Gigabyte GA-F2A78M-D3H: Motherboard with Full Support for AMD Kaveri
Gigabyte has thoroughly prepared for the official launch of hybrid Kaveri APUs from AMD by designing a series of compatible motherboards, including a new micro-ATX GA-F2A78M-D3H model. The board is characterized by the availability of multiple interfaces and expansion slots, despite its modest dimensions (244x244 mm). It is based on AMD A78 chipset, supporting AMD A and Athlon II APUs (of Kaveri generation) for socket FM2+.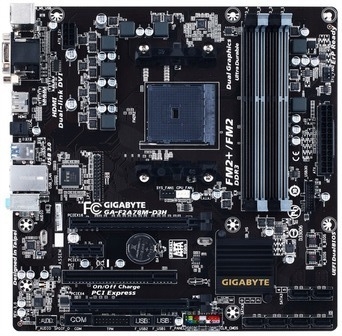 The motherboard offers four DIMM slots for the installation of DDR3-2400 MHz modules of up to 64 GB capacity (two-channel mode). It is able to house both, the modules supporting AMD Memory Profile and Intel Memory Profile profiles. Audio subsystem operates under the facilities of an integrated Realtek ALC887 codec; it ensures the production of 7.1-channel HD Audio sounding. Network powers are backed by gigabit Realtek RTL8111E controller.
To continue, the GA-F2A78M-D3H is equipped with four expansion slots, including PCI, PCIe 2.0 x16, PCIe 2.0 x1, and PCIe 3.0 x16. Storage facilities are represented by six SATA III 6 Gb/sec sockets, whereas connectivity is secured by means of four USB 3.0 ports. SATA inventory provides the organization of different RAID configurations (0, 1, 10, JBOD).
Besides, the model teases eight USB 2.0 ports (internal and external ones), HDMI, D-Sub, DVI-D video ports, RJ-45, PS/2 and S/PDIF ports. The list of implemented technologies, except for proprietary AMD ones, embraces Xpress Install, Q-Flash, EasyTune, Smart Recovery 2, and On/Off Charge.