司机的身份证或名称的设备
已知的设备:165022367
最新的已知的驱动程序:23.12.2020
Apacer Intros Two Dual-Channel Memory Sets – Commando DDR4-3600 и DDR4-3466
The Apacer has introduced its latest RAM memory sets, which replenished the Commando DDR4 series, aimed at assembling gaming desktop computers. It's worth remembering, that at present the Commando DDR4 line includes devices with the 2,400, 2,666 and 2,800 MHz frequencies, operating at 1.2 V. Besides, the vendor has demonstrated the solutions featuring the 3,000 and 3,200 MHz frequencies and the 1.35 V voltage.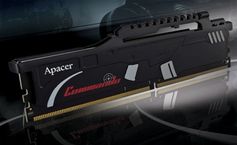 The kits presented got the following names: DDR4-3600 and DDR4-3466. The first variant has the 17-19-19-39 timings, the second — 16-18-18-36. Voltage supply claimed is 1.35 V. All in all, the kit consists of two modules of 8 GB capacity. Therefore, the total volume reaches 16 GB. These devices support the XMP 2.0 technology, and due to this fact overclock becomes easier. The highlight of Commando DDR4 modules is their extraordinary radiator cooling system, performed in the style of Heckler & Koch G36c assault rifle.
The novelties are already available at the market. The DDR4-3600 kit costs approximately 380 euro, while the DDR4-3466 version goes for about 250 euro.