司机的身份证或名称的设备
已知的设备:165022367
最新的已知的驱动程序:23.12.2020
Zotac to Release Low-Profile Version of GeForce GTX 650 Adapter
In September Zotac introduced its own version of GeForce GTX 650 graphics adapter. Now, after two months, the company announces its intentions to release a low-profile version of this adapter. Moreover, Zotac decided not to lose time on inventing an appropriate name for its card, but simply added the attribute LP (low-profile) to the existing name. Quite modest dimensions and lack of an additional power supply socket are not peculiar to adapters from GeForce GTX series, but Zotac is not embarrassed by this fact.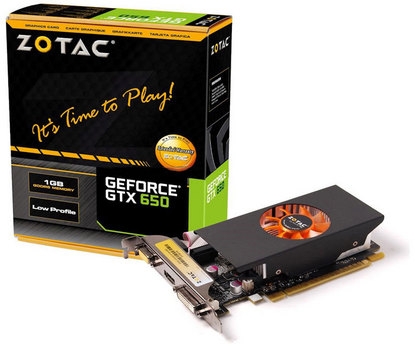 Graphics card Zotac GeForce GTX 650 LP is based on GK107 chip with 385 CUDA cores, developed on Kepler architecture (28 nm process). Due to its compact dimensions, it can be integrated into small-sized chassis of HTPC system. Despite the small PCB width, the card takes two expansion slots within the casing, since the height of cooler achieves the measure of 35-40 mm. The card's inventory includes 1024 MB GDDR5 memory with 128 bit interface, 32 texture blocks, and 16 rendering clocks. The integrated graphics core operates at 1058 MHz frequency, while memory module operates at 5000 MHz frequency.
Efficient heat management is the responsibility of an active-type cooler. Thus, Zotac GeForce GTX 650 LP is equipped with 50 mm fan with half-transparent ribs and aluminum heatsink. This model is developed specifically for PCI Express 3.0 x16 bus and accommodates a set of video outputs located on the rear board: HDMI, DVI, and D-Sub.
This graphics card is going to support DirectX 11 options, as well as a range of technologies developed by Nvidia: VSync, 3D Vision, TXAA, FXAA, and CUDA. Those are all specifications unveiled by the company so far; no release date or price policy issues have been voiced till this moment.