Bestuurders deur die ID of naam van die toestel
Bekende toestelle:165022367
Die laaste bekende bestuurder: 23.12.2020
Gigabyte Readies Entry-Level Graphics Card GV-N640D5-2GI
Gigabyte is going to introduce one more entry-level graphics solution that corresponds to the updated Nvidia GeForce GT 640 series. Entitled Gigabyte GeForce GT 640 (GV-N640D5-2GI), the card employs GK107 GPU, running at 1046 MHz frequency instead of the preceding 900 MHz. The core, developed under 28 technological process, utilizes 384 CUDA cores.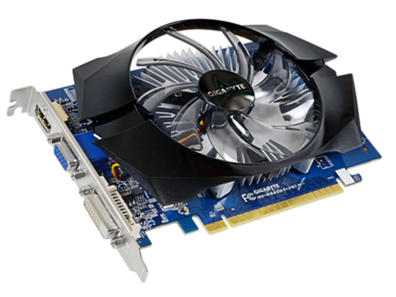 It's necessary to underline that the new-comer differs by the availability of 2 GB memory, whereas all etalon models take 1 GB only. Memory is represented by 64-bit GDDR5 chips that run at 5010 MHz effective frequency, if compared with 1800 MHz frequency that DDR3 modules demonstrate.
GV-N640D5-2GI comes with an improved design of PCB where a brand Ultra Durable 2 concept has been incorporated. This concept implies the employment of a high-quality hardware base, involving durable solid-state capacitors, transistors with low channel resistance RDS (on), and ferrite throttles with reduced power loss. Traditionally, the model employs PCIe 3.0 x16 internal interface. A set of external interfaces boasts HDMI, D-Sub and DVI-D ports, which allow for the creation of multi-screen configurations (with maximum two monitors connected) for a more immersive virtual experience.
To continue, graphics card Gigabyte GeForce GT 640 is cooled down by a two-slot cooler. Its framework consists of an aluminum heatsink and a single 10 cm fan. Despite the entry-level destination, this model supports a lot of innovative technologies: DirectX 11, OpenGL 4.x, Blu-ray 3D, and Shader Model 5.0. As for the Nvidia's brand technologies, it is thought to support FXAA, Adaptive VSync, Surround, and PureVideo HD options.