Bestuurders deur die ID of naam van die toestel
Bekende toestelle:163074949
Die laaste bekende bestuurder: 15.12.2019
Meet New Nifty Qs-240 Chassis from Aerocool
The lineup of Aerocool's chassis has been replenished by a new classy PC case – the Qs-240. The model is designed in mini-tower format targeting micro-ATX or mini-ITX motherboards with maximum of 4 expansion slots. The inventory of external interfaces entails a pair of audio ports, the same number of USB 2.0 ports as well as a single USB 3.0 port.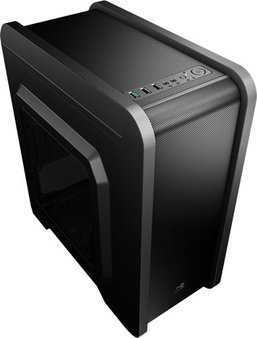 Internal layout of Aerocool Qs-240 provides for two 3.5-inch drive bays & three 2.5-inch drive bays. Absence of high storage cages allows installing quite lengthy videocards (up to 320 mm) and quite high CPU coolers (up to 160 mm). ATX-compatible power supply unit is to be located in the bottom section of the chassis.
The case comes equipped with one 120-mm fan (rear). In addition, it's feasible to integrate a pair of top fans and a pair of front ones (all of 120-mm dimensional type) which are accompanied by dust filters. Instead of frontal fans the customer might install 240-mm heatsink that is a part of a liquid cooling system.