Bestuurders deur die ID of naam van die toestel
Bekende toestelle:165022367
Die laaste bekende bestuurder: 23.12.2020
Micron Adds Three Models to Its Crucial MX500 Series, Namely the 250 GB, 500 GB and 2 TB Samples
On a recent day the Micron company has added three samples of the 250 GB, 500 GB and 2 TB capacity to its Crucial MX500 SSDs line. Besides, the 1 TB model went on sale last month.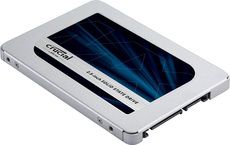 The novelties are performed in the 2.5"/7 mm form factor on the base of 64-layer 3D TLC NAND microchips. They are equipped with the SATA 6 Gb/s interface.
Crucial MX500 drives feature the 560 MB/s sequential read speed and 510 MB/s sequential write speed. The Silicon Motion SM2258 controller acts as a logic set. Productivity while 4 KB random clusters handling reaches 95,000 IOPS at read and 90,000 IOPS at write. All solid state drives obtained the 5-year warranty from the manufacturer.
Micron planned to produce their Crucial MX500 series drives as Samsung 850 EVO devices' competitors. Official retailers are already receiving these specialties at the $80, $140 and $500 recommended price for the 250 GB, 500 GB and 2 TB respectively. On top of everything, Micron is going to release MX500 drives in the M.2 format.