Bestuurders deur die ID of naam van die toestel
Bekende toestelle:163074949
Die laaste bekende bestuurder: 15.12.2019
Chassis Chieftec Libra LF-01B-OP Review
Chieftec is the company that tries to satisfy the needs of any customer, by supplying multifarious PC hardware. Its latest chassis series, codenamed Libra, is primarily aiming at gamers due to its splashy design and elaborated layout. Chassis Libra LF-01B-OP is a senior model in the series that is distinguished by a more distinct gaming directionality: ATX form-factor, bottom-part PSU localization, a line of fans, dock station for hard drives, and some other pleasing facilities.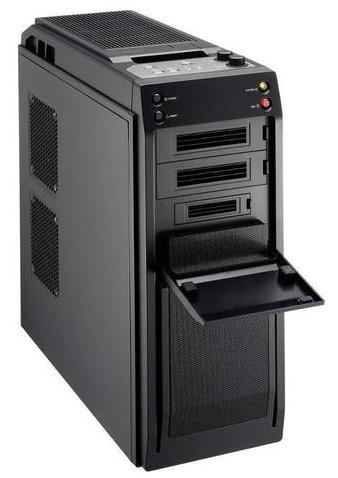 Design
Chieftec Libra LF-01B-OP is notable by restrained design peculiarities with a bit rounded angles and straight lines. The casing is totally black from the outside and inside with the wee bit dull surfacing. The upper panel is made of plastic; its larger part is taken by a grid that serves a means of hot air blow-out. Closer to its front part, one can find a dock station for 3.5/2.5-inch drives and a recess for peripheral components. Interface panel is introduced by two USB 3.0 ports and the same number of USB 2.0 ports. Undoubtedly, it also contains output for headphones and input for a microphone. The integration of two reobases, which support the connection of two fans each, is supposed to be a pleasing design solution.
The top part of frontal panel houses Startup and Clear buttons, as well as power supply and drives' activity indicators (lighted by blue and red). Central part is notable for the integration of tip-up lid that covers the drives' bays; this lid features removable ventilated plugs for 5.25-inch and 3.5-inch drives. Both side panels are standard without any peculiar elements. They are fixed by means of plastic thumbscrews.
The rear panel is also standard: its upper part accommodates a grid that covers 120 mm fan, the central part contains a couple of rubber holes for water-cooling system cables. Its lower part covers a bay for PSU installation and seven fine-meshed plugs for expansion cards. The chassis' base is equipped with two removable dust filters fixed by plastic holders.
The nominal delivery kit of Chieftec Libra LF-01B-OP consists of a brief assembly guideline, a loud speaker, five cable couplings, three pairs of slides for 3.5-inch drives, four screws for PSU installation, nineteen screws for motherboard and hard drives fixture, six long screws and five clinchers for graphics cards, two planks and two stands for elongated graphics cards, and nine gaskets for motherboard screws.
Internal Integration
Chassis Libra LF-01B-OP is developed in middle-tower form factor. It is predestined for the installation of mini-ITX, micro-ATX and ATX motherboards, for seven expansion cards of up to 395 mm in length, and for CPU coolers of up to 170 mm in height. The PSU bay is furnished with four rubber dampers which lift the unit over the base and neutralize the vibration. This model is delivered with five pre-installed fans of 120 mm dimensions with red impellers which feature three-contact connection type. Their maximal rotational speed is estimated at 1500 rpm. Additionally, it's possible to install 80 mm fans to the frontal part of the casing and two more 120 mm fans to the side panel.
The motherboard tray is void of spacing for efficient cable management. With the aim to remove the top panel, the user will have to detach a dock station firstly. On the other hand, the frontal panel is easily detachable by means of pulling its lower part over. The chassis is able to accommodate two 5.25-inch drives with non-screw fixture and two 3.5-inch drives (external and internal).
In Use
The user won't find any difficulties while assembling the system, since the delivery kit contains all vital fixing components. Upon the whole, the pre-installed cooling system is able to manage the heat efficiently, providing enough airflow to all major components. Separate tribute should be given to the hard drive vibration-proof facilities, despite the absence of dampers. The other tribute should be given to the solid rubber feet and tight binding of the drives in dedicated bays; they also minimize the casing's vibration level. The only alarming thing is a bit heightened graphics card temperature; such temperature signifies about the lack of airflow passed through the frontal dust filter when the fans rotate at reduced speed.