Bestuurders deur die ID of naam van die toestel
Bekende toestelle:163074949
Die laaste bekende bestuurder: 15.12.2019
Motherboard ASRock Z77 Extreme9 Review
Motherboards intended for gaming systems are developed and supplied by several reputable companies. ASRock belongs to their army and frequently releases motherboards with outstanding parameters. Its latest creation ASRock Z77 Extreme9 model is designed specifically for LGA 1155 socket and Intel Z77 processor. It is able to provide the users with appropriate efficiency and multiple opportunities to create a really high-performance gaming system.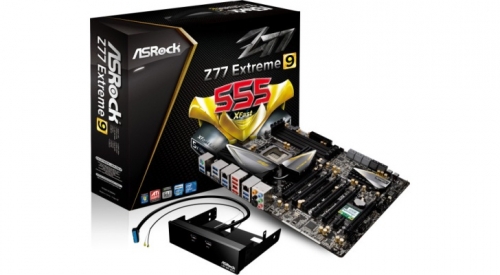 Integration
Design of motherboard ASRock Z77 Extreme9 is not peculiar for the implementation of bright colors or excessive ornamental elements. Only gold yellow capacitors and decorative stripes on radiators add some glamor to the board. One of the stripes is lighted up by white LED; this option is provided by LED Heatsink Design facility. The motherboard is developed in ATX form-factor. Power supply is realized by means of Digi Power digital system that works by 8+4 scheme. All hot converter components are covered by a solid radiator that is connected with the central radiator by a heat pipe. The third radiator has found its place on the system logics chip. Central radiator is destined to cool down PLX PEX 8747 bridge that supplements PCI-e lines for graphics adapters.
This motherboard accommodates four PCI-e 3.0/2.0 x16 sockets. A single or a pair of graphics cards can show all their power, while the application of all sequential cards will divide the power twice. Intel Z77 Express logics set equips the board with four SATA 3 Gb/sec ports, a couple of SATA 6 Gb/sec ports (two ASMedia ASM1061 controllers replenish the interface with four additional SATA 6 Gb/sec ports).
The rear panel of the board includes a whole spectrum of components necessary for the connection with various devices and elements. Here one can find Clear CMOS button, HDMI video socket, PS/2 universal socket for the connection with peripheral devices, S/PDIF output, five analog audio sockets (controlled by 8-channel Realtek ALC898 codec), a couple of external USB 2.0 sockets with the possibility to connect 6 more ports via internal sockets, eight USB 3.0 ports based on EtronTech EJ188H controller, a couple of local network sockets based on Broadcom BCM57781 controllers, and IEEE1394 port FireWire based on VIA VT6315N controller.
Delivery Kit
The nominal delivery kit of motherboard ASRock Z77 Extreme9 is differentiated by the availability of DVD disk with dedicated software and drivers, detailed user manual, I/O Shield for rear panel, solid bridge for the creation of various graphics configurations in Nvidia 3-Way SLI mode, two solid bridges for the combination of graphics cards in Nvidia SLI mode, six SATA cables with metallic plugs, two adapters for the connection of power supply to SATA devices, and ASRock Wi-SB Box module with two antennas, set of screws and bays for 2.5 inch drives.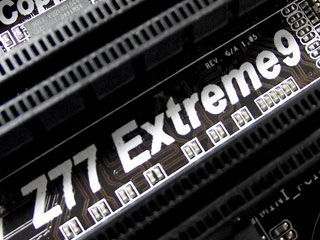 Technical Peculiarities
All basic technical peculiarities of the motherboard under consideration can be dwindled to the following items:
— memory type and volume: DDR3 DIMM, two-channel architecture, 32 GB;
— fan type and number: 6 fans, two of them are four-contact;
— support of multi-GPU: AMD CrossFireX, 3-Way/4-Way CrossFireX, Quad CrossFireX, Nvidia 3-Way/4-Way SLI, Quad SLI;
— additional facilities: post-code indicator, two sockets for CPU coolers (one of them is three-contact), mini-PCI Express card Wi-Fi 802.11 a/b/g/n, 2.4/5 GHz, Bluetooth 4.0.
BIOS
BIOS interface is divided into several sections which are responsible for the provision of information and making essential adjustments. Section 'Main' highlights all basic information about the system. Sub-section 'System Browser' describes the scheme of the motherboard in details. It's possible to receive more details about any component by just clicking on it. Section 'OC Tweaker' is responsible for the setup of overclocking options. Its facilities allow users to employ automatic CPU overclocking options or establish the needful frequency index manually. Additionally, this section enables the adjustment and saving of three full profiles of BIOS settings.
Section 'Advanced' includes firmware update system, entitled Instant Flash. This applet will automatically analyze the activated USB drive and then list all suitable updates for the drive. Section 'Boot' enables the choice of parameters applied on startup process; section 'Security' provides for the setup of user and administering passwords to the system.